Kamaz brake line connecting heads
Palm-type connecting heads (fig. a, b) connect the lines of the two-wire pneumatic brake drive of the trailer (semi-trailer) and the tractor
The heads are valveless, they have a rubber seal 2 for sealing the joint of the connecting heads, as well as 4 clamps that keep them in the coupled state.

Connecting head type "Palm": trailer and tractor; 1 - body, 2 - seal, 3 - cover, 4 - retainer
Connecting head type A (fig. "a") connects the line of a single-wire pneumatic brake drive, and also automatically closes the connecting line of the tractor when disconnecting the heads.
The head of type A of the tractor vehicle (fig. b) is docked with the head of type B of the trailer.
The head has a valve 3, which in the disconnected head is closed under the action of spring 2, and in the connected head it is opened by the stem 5 of the trailer head.

Connecting heads a - type A, b - types A and B; / - body, 2 - valve spring, 3 - valve, 4 - seal, 5 - stem
Repair of the "Palm" type connection head
Tools will be required: a vise with soft jaws, a screwdriver, washing dishes, a hairbrush
Disassembly of the connection head
Installing the head in a vise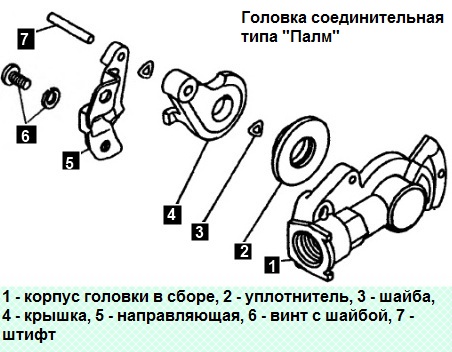 Unscrew screws 6, remove guide 5, washer 3
Open seal 2 heads by turning cover 4 around pin 7
Remove the seal 2 from the body 1 of the head
We wash the head parts in diesel fuel and blow with compressed air
Checking the technical condition
Assembly of the "Palm" connection head
We install the seal 2 in the body 1 of the head
Note: the seal must be installed carefully to prevent damage
Close the cover 4 seal of the connecting head
Install guide 5, screw in screws 6 with washers
Remove the head from the vise
We carry out a test for performance and tightness by connecting devices 3 according to the diagram shown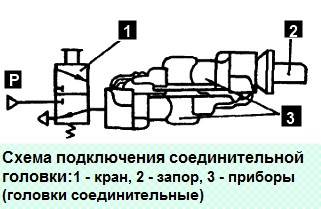 Turn the faucet on and off several times 1. Air leakage is not allowed