Removing and installing the parking brake lever GAZ-3110
Parking brake system drive - mechanical, cable, on the rear wheels
It consists of a lever (with a handle and a locking mechanism), an intermediate lever and its rod, an equalizer and its rod, cables, a drive lever with a rod in the rear brake mechanisms.
The free play of the drive arm is adjusted by the eccentric on the rear block, and the tension of the cables is adjusted by the adjusting nut on the equalizer rod.
1. Disconnect the parking brake cables from the equalizer.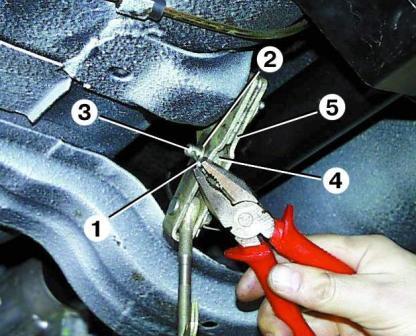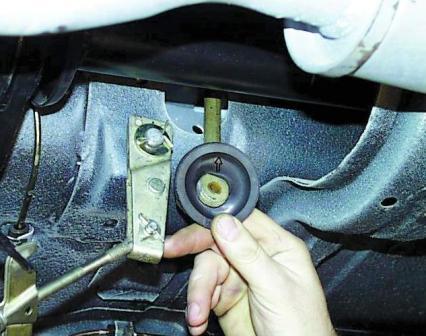 2. Remove cotter pin 1, remove washer 2 and remove axle 3, thereby disconnecting link 4 from equalizer lever 5.
3. Remove the floor cover seal from the hole in the body under the parking brake lever rod.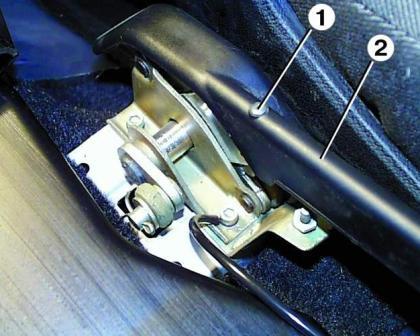 4. From inside the passenger compartment, unscrew the fastening screw 1 and remove the lining 2 of the parking brake lever.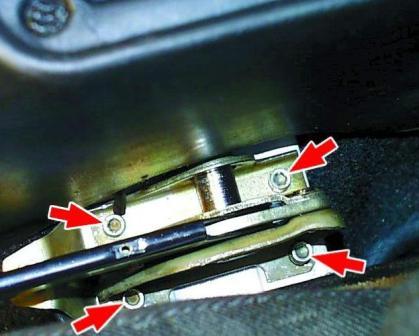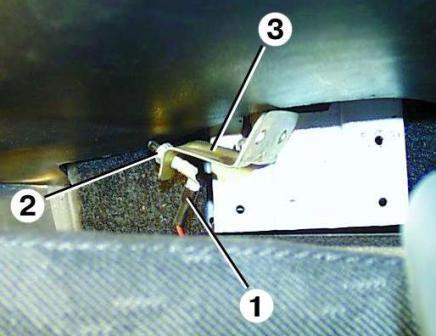 5. Unscrew the four mounting bolts and pull up the parking brake lever assembly. For ease of dismantling the lever, it is recommended to remove the front seats.
6. If necessary, disconnect wires 1 and remove switch 2 for parking brake warning lamp from bracket 3.
Disassembly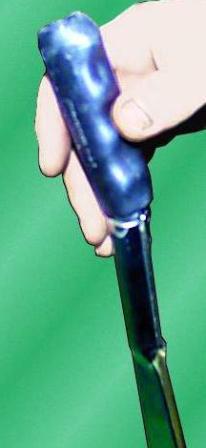 Remove the handle from the lever. She sits on the lever with a slight tightness.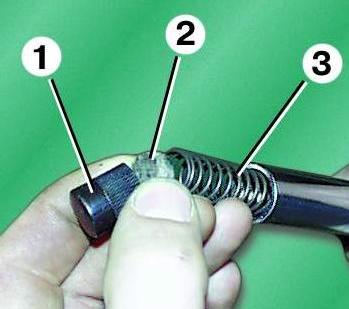 Unscrew button 1 and remove spring 3 with support felt washer 2 from the lever.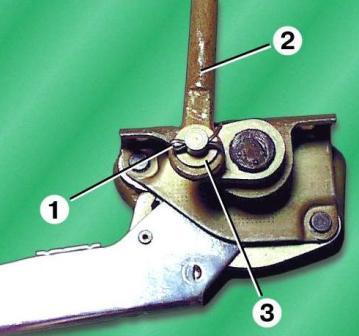 Remove cotter pin 1 and remove lever rod 2 with two washers 3 from the axle.
Assembly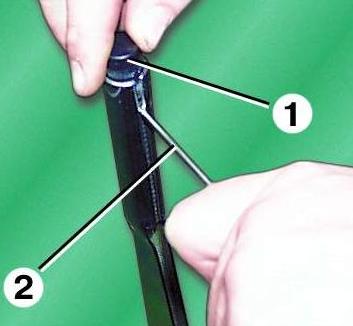 Assembly of the parking brake lever is carried out in the reverse order of removal, pre-lubricated with a thin layer of grease Litol-24 gear sector and pawl.
When installing button 1, it is necessary to compress the spring with a narrow screwdriver 2 through the slot in the lever.
Installation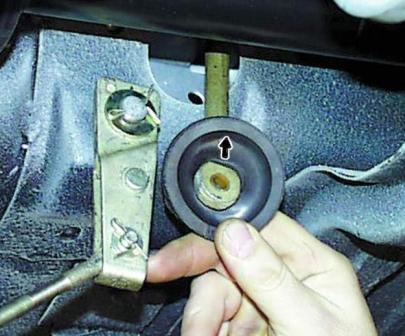 Install the parking brake lever in the reverse order of removal.
When installing the floor cover seal, the arrow on the floor cover must point upwards.
After installing the lever, adjust the tension of the parking brake cables.