When repairing, the front axle beam must be checked for bending and twisting on the fixture (Fig. 1), which is installed on the spring platform
The prism of the device is guided along the latch installed in the holes for the king pin and secured with an expander collet
The determination of bending and twisting, as well as the angle of inclination of the hole for the king pin, is carried out on scales. to check the opposite side of the beam, the fixture is reinstalled.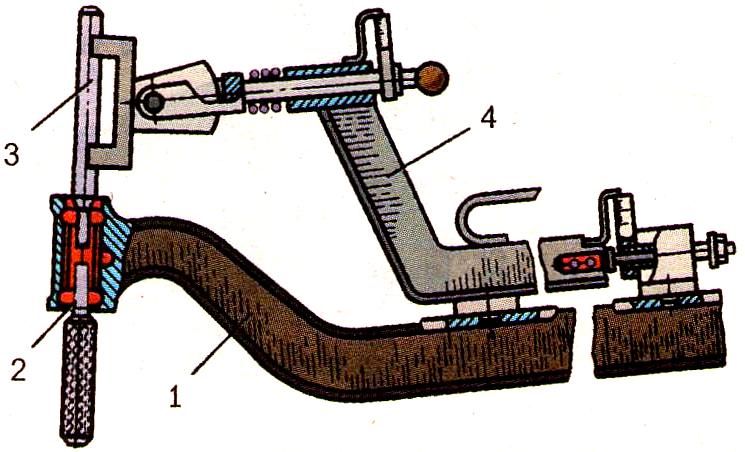 The beam is straightened in a cold state under a hydraulic press.
After straightening, the angle of inclination of the axis of the kingpin hole to the vertical axis should be within 7°45' - 8°15'.
The non-perpendicularity of the pivot hole relative to the spring pads should not exceed 0.5 mm.
The non-perpendicularity of the ends of the beam bosses relative to the holes for the kingpin is allowed no more than 0.2 mm.
If a beam is bent and cannot be straightened, it should be replaced.
When parts of the front axle are worn beyond the allowable dimensions, the worn parts should be replaced. Cracks on the surface of the front axle parts are not allowed.
If the steering knuckle eye is worn under the front axle beam in excess of the allowable size of 68.06 mm, it is recommended to process the worn surfaces and install compensating washers during assembly.
When the eye is worn more than 68.5 mm, the steering knuckle must be replaced.
Damage of the thread of the steering knuckles by more than two threads is not allowed.
It is recommended to press out the worn bushings of the steering knuckle and replace them with new ones. The pressing force of the bushings must be at least 10,000 N.
Steering knuckles with worn journals for bearings should be replaced.
The main dimensions of the front axle parts are shown in the table.
Options

Dimensions, mm

Nominal

Permissible

without repair

Beam front axle. Steel 45, GOST 1050-74, hardness 285...341NV

beam length at the centers of the kingpin holes

1633

---

pin hole diameter

30,00…30,033

30,06

pin hole diameter

13,00...13,11

13,24

King pin height

49,00…50,00

48,80

Rounded fist

Steel 40X, GOST 4543-71, hardness 241...285NV

journal diameter for outer bearing

35,975...35,991

35,955

journal diameter for inner bearing

44,975...44,991

44,955

pin hole diameter

33,00...33,039

33,07

diameter of the neck for the ring of the cuff of the hub

50,034…50,050

-

Width of the lug under the beam of the front axle

67,90...68,36

68,50

Pin thread

М30х1,5-4h

-

Steering knuckle levers Steel 40x, GOST 4543-71, hardness 269.302 HB

diameter of the large hole of the cone for the ball pin

20,0

 

diameter of holes for mounting bolts

16,095…16,205

16,4

Mismatch between the end face of the large diameter taper hole and the taper gauge

0,3

-

Ball pin hole taper

1/8

-

King pin steel 18xgg, GOST 4543-71, depth of nitrocarburized layer - 1.0 ... 1.4 Mm,

surface layer hardness - 59.63 HRC

king pin diameter

29,987…30,00

29,97

Swivel bushing. Tape 1.8 mm thick BrOTsS 4-4-2.5, GOST 15885-77

Outer diameter of sleeve (in ring gauge)

33,112...33,174

-

Front wheel hub casting KCh 35-10-f or VCh 40

outer bearing ring bore diameter

35,975.. .35,991

35,955

inner bearing ring bore diameter

44.975...44.991

44.955