General information about the maintenance of the Kamaz car
The scope of maintenance includes control and diagnostic, fastening, lubrication, adjustment, electrical and installation and dismantling work related to checking and adjusting individual components and assemblies on special stands and equipment
If during maintenance there is doubt about the full serviceability of a separate assembly unit, then check it with a special device or at a stand.
Maintenance of KamAZ vehicles (road trains) is divided into maintenance during the initial and main periods of operation.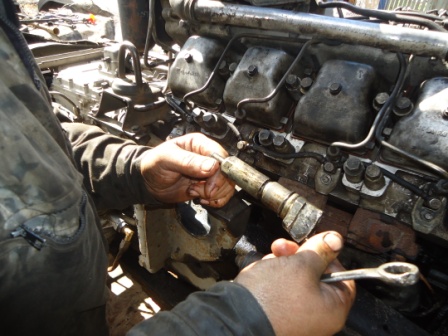 Maintenance during the initial period of operation:
- daily maintenance;
- maintenance after the first 1000 km (service A);
- maintenance after the first 4000 km (service B);
—service 1 after the first 8000 km;
— service 2 after the first 12000 km.
Maintenance during the main period of operation:
Automotive maintenance frequency
- daily maintenance;
- service 1;
- service 2;
- seasonal maintenance (service C).
The main purpose of daily maintenance is the general control over the condition of units and systems that ensure traffic safety, and maintaining a proper appearance.
In the initial period of operation, the parts in the vehicle's assemblies are run-in, so when carrying out maintenance during this period, perform preventive fastening and lubrication and cleaning work with special care.
Maintenance during the initial period is carried out regardless of operating conditions.
During the main period of operation, maintenance work is carried out at intervals corresponding to the category of operating conditions
Frequency of vehicle maintenance depending on the characteristics of operating conditions:
Motor roads with asphalt concrete, cement concrete and similar pavement outside the suburban zone
Motor roads with asphalt concrete, cement concrete and equivalent surface in the suburban area, streets of small towns (with a population of up to 100 thousand inhabitants):
- service 1: 4000 km;
- service 2: 12000 km;
- service С: 24000 km.
Motor roads with asphalt concrete and equivalent surface in mountainous areas. Streets of big cities
Crushed stone or gravel roads
Dirt profiled and logging roads
- service 1: 3200 km;
- service 2: 9600 km;
- service С: 19200 km.
Mountainous roads with crushed stone or gravel
Unprofiled roads and stubble. Quarries, pits and temporary access roads
- service 1: 2400 km;
- service 2: 7200 km;
- service С: 14400 km.
Seasonal maintenance includes additional fall maintenance that is performed once a year.
All types of maintenance are carried out within the time specified in the service book.
Smudge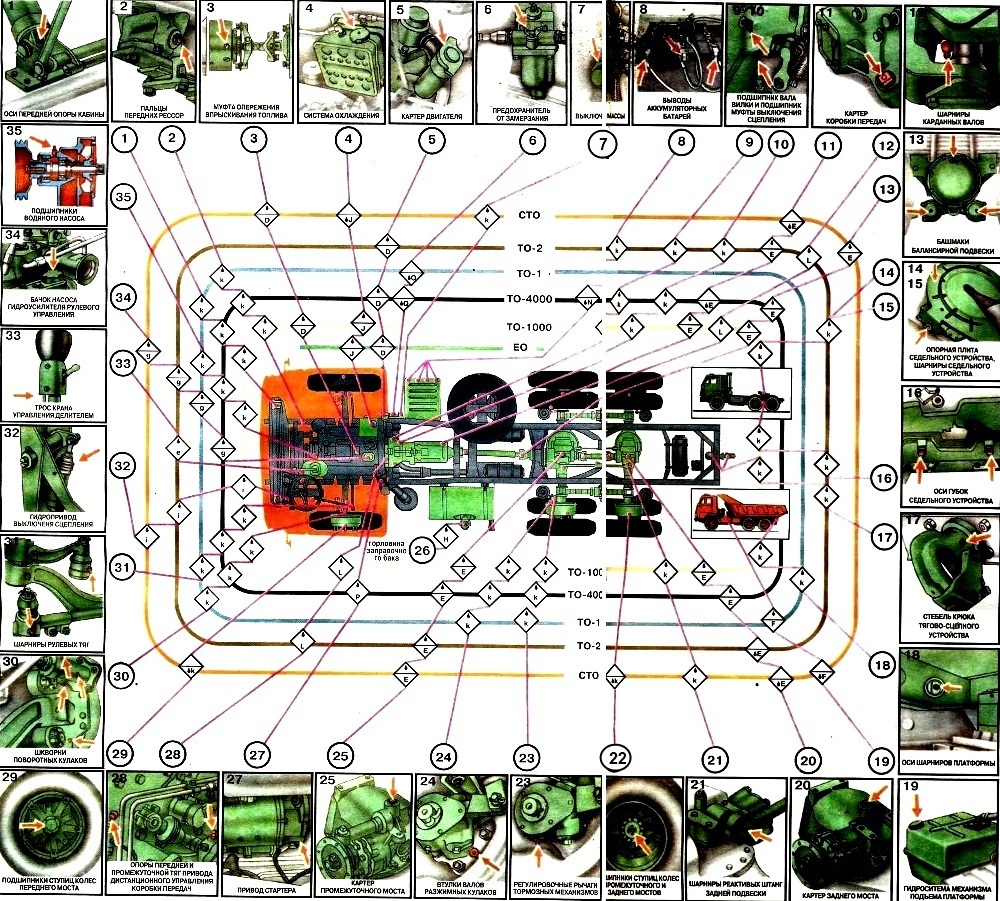 The name of the oils, the quantity and frequency of lubrication are indicated in the car's chemotological lubrication map, and the location of assembly units and assemblies that require periodic replenishment or replacement of oil is shown in Figure 2.
Remember that the use of substitutes significantly reduces the durability of vehicle assembly units (for example, power steering by three to four times) and is only allowed as a temporary measure.
When switching from one recommended type of oil to another, flush the gearbox with a mixture of 50% diesel fuel and 50% fresh, intended for subsequent oil filling, cranking the engine for 5...10 min with neutral in the gearbox.
Chemical map of Kamaz vehicles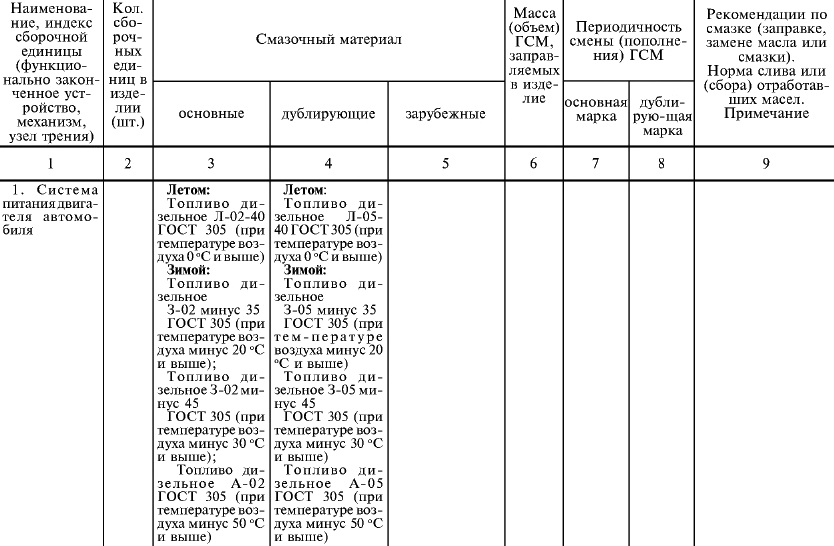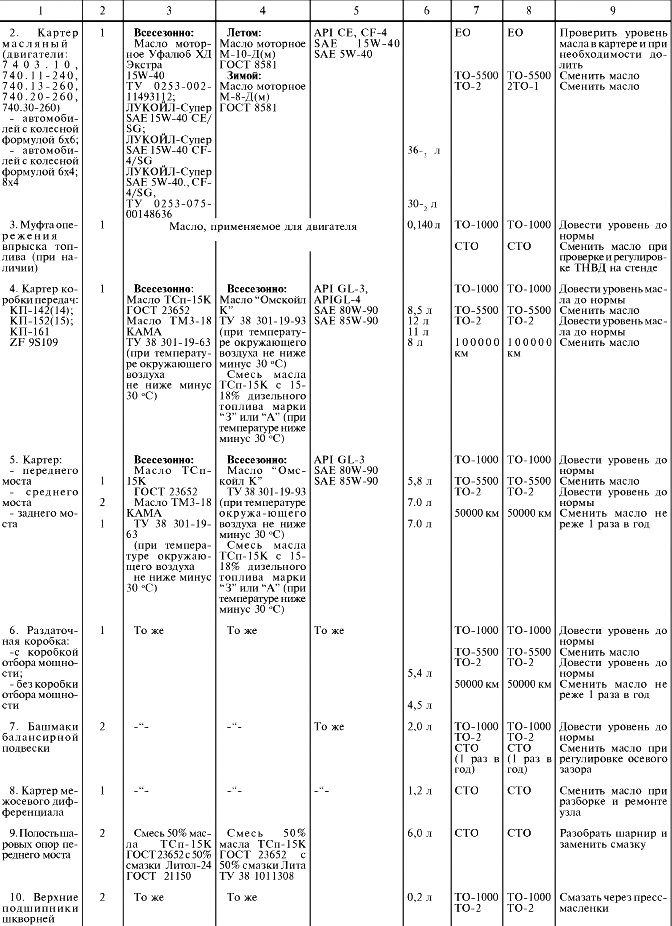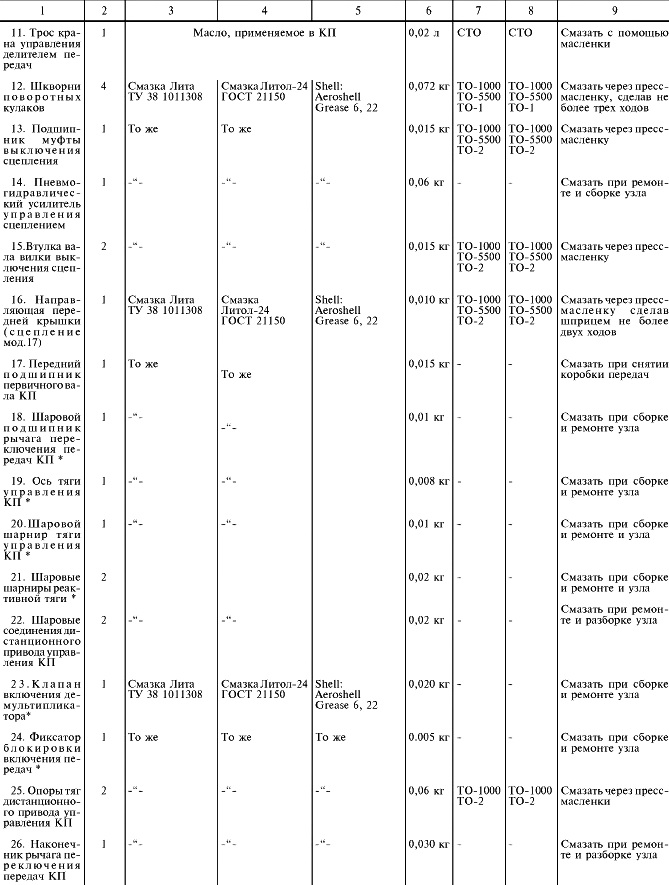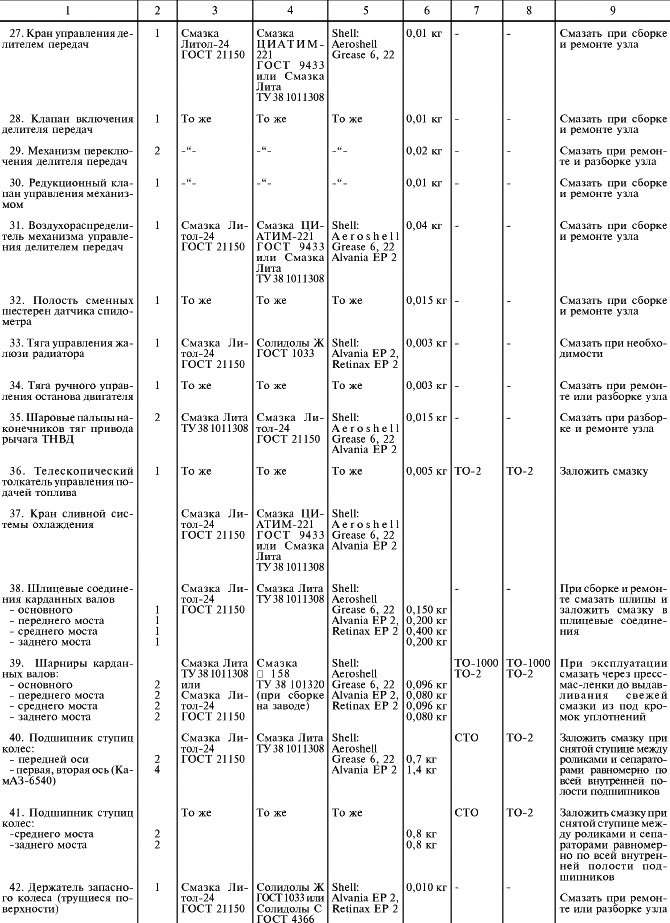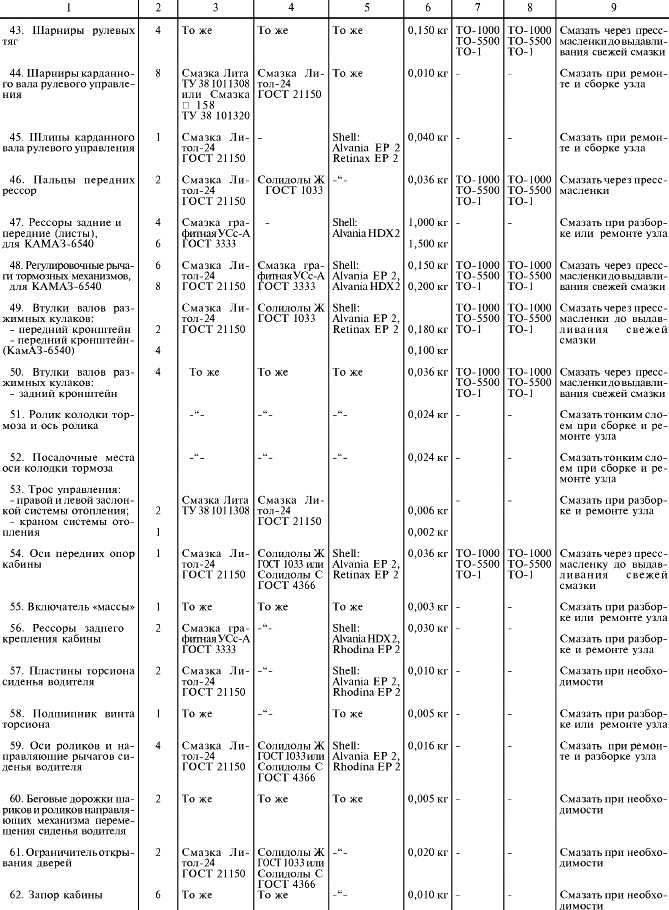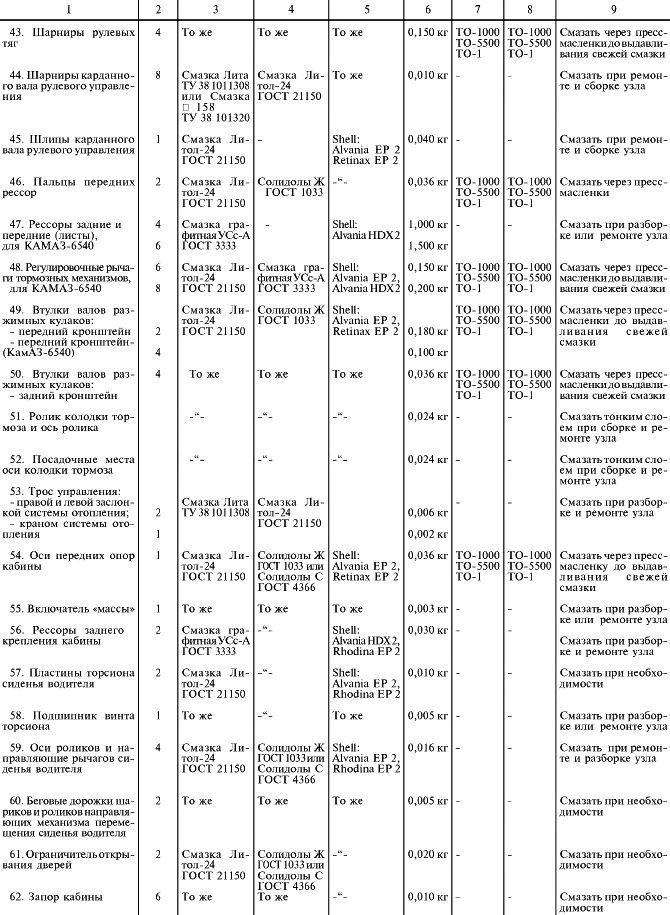 Mounting
In the list of maintenance operations, fixing work is provided, the implementation of which is mandatory.
To control the performance of fastening work in the article - Tightening torques for KamAZ fasteners, there is a table of tightening torques for threaded connections tightened during maintenance.
Peculiarities of repair work
The current repair of a car consists in the elimination of malfunctions and damages detected during operation or maintenance through repair operations associated with partial or complete disassembly of units, assembly units or their replacement, as well as with the replacement of individual parts (except for basic ones).
The base part of the unit is the most complex and expensive part (body, base, frame, block, etc.), to which all other parts are attached.
Before disassembling the unit (engine) or any subassembly located on it, check the general condition of the unit (engine) using diagnostic equipment and collect as much data as possible about it. This will help determine the cause of the problem.
For a faster and more thorough check, clean and wash the unit (engine) before inspection.
Remove, transport and install the unit (engine) using lifting and transport vehicles equipped with devices that guarantee complete safety of work.
When performing repair operations, be guided by the following general principles
Disassemble and assemble parts of any assembly unit or unit on a special stand or workbench using special tools and fixtures
Assemble all assembly units and assemblies in the reverse order of disassembly. Therefore, when disassembling, arrange the parts in a certain order.
Parts connected by welding, riveting or fixed fits should only be disassembled when required by repair conditions.
Unscrew the studs only when it is necessary for disassembling the unit or assembly unit, when replacing the stud and part.
Before tightening the cylinder head bolts (if removed), remove oil or water from the threaded holes in the block.
Do not depersonalize pairs of parts that are installed on the engine only as a set:
- main bearing caps with block, connecting rods with connecting rod caps, high pressure fuel pump plunger pairs, manual priming pump piston with cylinder, low pressure fuel pump rod bushing;
- driven and driving gears, main gear of drive axle gearboxes.
Carefully separate the gaskets from the contact planes with a screwdriver; extrude parts only with the help of tools, if they are not available, use special drifts or light blows of a copper (wooden) hammer.
To check the technical condition, clean all parts after disassembly from dust, scale, soot, varnish deposits, rust, rinse and dry. Do not wash parts made of aluminum and zinc alloys in alkaline solutions.
Inspection of parts, start with an external inspection, use magnifiers or a magnetic flaw detector to detect defects on critical parts. Demagnetize parts that have been tested on a magnetic flaw detector.
Discard upon inspection:
—details with significant scratches, chips or chipping, burn marks;
- parts with cracks on working surfaces and in places that experience heavy loads during operation (for example, cracks are unacceptable on crankshafts and connecting rods);
—fasteners with more than two threads of thread damage;
—bolts and nuts with worn edges, as well as screws with clogged or stripped head slots;
- splint wire and lock washers with folding edges;
—rubber parts that have lost their elasticity;
—hoses with cracks and bundles;
—pipelines with dents that reduce their cross section, or with cracks at flared ends;
- crumpled brass couplings;
- metal panels and plumage parts with dents, cracks and holes on the surfaces;
—fuel tanks with dents, leaks, coating or paint damage.
Before assembling, prepare all the parts as follows:
- clean up nicks and burrs on the mating surfaces of parts;
—repair a thread damaged within acceptable limits;
- weld cracks or shells in unloaded parts of parts (for example, in the walls of water jackets and exhaust gas pipelines); after welding, clean the seams to give the part the proper appearance;
—parting planes, in which warpage slightly exceeds the allowable level, correct with scraping;
— check for tightness water and oil cavities of parts and assembly units, as well as high and low pressure fuel lines;
- remove the anti-corrosion coating used when storing parts;
- wash the parts and assemblies of the high pressure fuel pump, hand pump and nozzles with clean summer diesel fuel, precision parts (plunger pairs, pressure valves and sprayers) with gasoline.
After rinsing, blow the parts with compressed air.
Do not wipe parts of the fuel equipment with cleaning cloth.
Before assembling, grease sealing gaskets, threads in plug holes and threads in through holes with non-drying sealing paste, and saturate felt seals with grease.
Ready to assemble means that all the assembly units to be restored have been restored or replaced with new ones and are ready for assembly.
During the assembly work, inspect each mechanism and make sure that nothing was missed during the restoration.
Assemble under conditions that guarantee the cleanliness of the parts.
When tightening joints sealed with rubber gaskets, do not apply too much force, otherwise the gaskets will be destroyed.
During assembly, tighten the threaded connections, providing the torques recommended in the article - Tightening torques for KamAZ fasteners.
When pressing in rolling bearings, the tool must rest against the ring to be pressed in.
Use mandrels when installing oil seals and seals.
After repairing assembly units and replacing them on the car, run in to make sure that all mechanisms and systems are in good condition and that they interact correctly.