The centrifugal type fluid pump circulates fluid in the engine cooling system
It is installed on the front end of the engine block on the left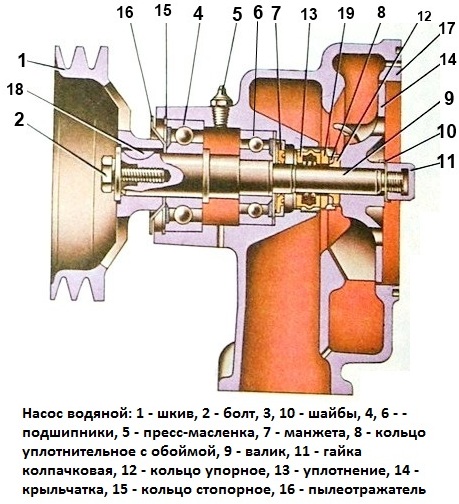 A shaft is installed in the pump housing on ball bearings 4 and 6 (Fig. 1).
At the front end of the shaft, a two-strand pulley 1 is fixed with a key and a bolt 2.
At the opposite end of the shaft, the pump impeller is pressed and secured with a nut.
The shaft is driven by a V-belt drive from the hydraulic clutch pulley.
The cavity in the pump housing for the impeller is sealed with an oil seal 8, consisting of a housing, a rubber sealing collar, an expanding spring and a graphite ring.
The stuffing box is pressed into the water pump housing, and its graphite ring is constantly pressed against the thrust steel ring. A sealing rubber ring is installed between the thrust ring and the impeller.
High quality manufacturing of the ends of graphite and steel thrust rings ensures reliable contact sealing of the water cavity of the pump.
Bearings 4 and 6 sealed on one side.
The cavity of the bearings during assembly is filled with lubricant, which must be replenished during operation through the grease fitting 5.
Pump repair is described in the article Pump repair KAMAZ