Kamaz ten-speed gearbox
Ten-speed gearbox. It consists of a main five-speed gearbox and a front attached gearbox - a gear divider, due to which it has ten gears for moving forward and two gears for moving backward
The fifth lowest gear is direct, the fifth highest is accelerating.
The gear ratios of the box are as follows: IH - 7.82, IB - 6.38; IH - 4.03, IIB - 3.29; IIIH - 2.5: IIIB - 2.04; IVH - 1.53, IVB - 1.25; VH-1.00, VB - 0.815, ZHN - 7.38, ZHV - 6.02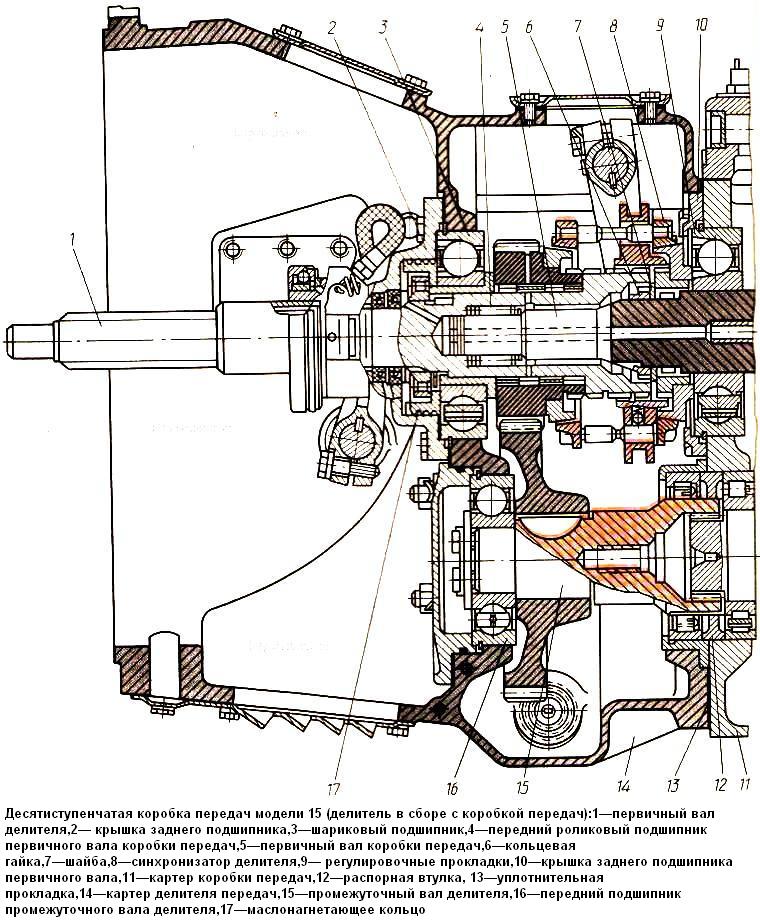 The main gearbox is based on the five-speed gearbox described earlier, and has a similar arrangement with it, except for the following:
- the gearbox is attached to the crankcase 14 (Fig. 1.), made integral with the clutch housing;
- oil injection ring 17 is installed on the primary shaft of the divider 1, and not on the input shaft of the gearbox;
- the rear bearing 3 of the input shaft is fixed with a special annular cover 2;
- due to the installation of the intermediate shaft 15 of the divider, the cover of the bearing of the intermediate shaft of the gearbox is missing;
- on the input shaft 5 of the gearbox, the torque from the clutch discs is transmitted through the divider and therefore there are no splines for installing the clutch discs;
- the front bearing 4 of the input shaft of the gearbox is installed in a special socket of the input shaft of the divider, and not in the bore of the crankshaft;
- to enable the lower gear of the divider, splines are cut on the input shaft of the gearbox, on which a gear coupling with a cone pressed onto it is installed to ensure the operation of the synchronizer 8.
The end of the cone rests against the inner ring of the bearing, and the coupling is fixed on the shaft with a nut 6.