The oil pump is a gear type of the NSh-32-L-2 brand of left rotation.
The oil pressure in the hydraulic system generated by the pump is 14 MPa, the pump capacity is 56 l/min at a speed of 1900...2000 rpm
The pump contains a drive and driven gear shaft and bushings in which the gear shaft rotates.
The pump housing is closed by a cover with an O-ring screwed on.
The drive gear is made integral with the splined shaft, which is sealed with a cuff and is driven by a coupling half 22.
During the rotation of the gears, the fluid contained in the cavity of the teeth is transferred from the suction chamber A (Fig. 1) along the periphery of the housing to the discharge chamber B and further to the pressure hydraulic line.
As you approach the injection chamber, the fluid pressure increases (shown by arrows in the figure).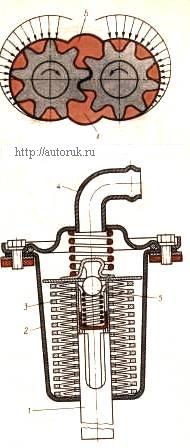 The suction port of the larger diameter pump is connected to the tank. The oil tank is stamped from two halves.
In the upper part of the tank there is a filler neck and a filter mounting flange, in the lower part there is an oil drain hole closed with a screw plug and a suction pipe.
A filter mesh is installed in the filler neck.
The neck is closed with a threaded cap with a hole connecting the tank cavity with the atmosphere, and an oil level indicator with lower and upper marks.
The oil level in the tank should be within these marks with the platform lowered.
To prevent dust and dirt from entering through the hole in the filler cap, a hair packing is provided.
An oil tank filter is installed on the drain line.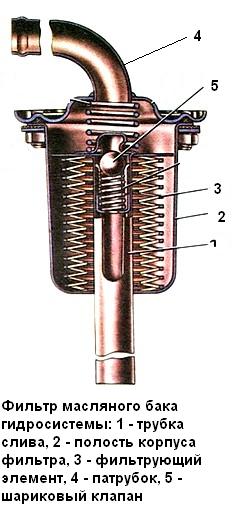 Oil tank filter (fig. 2). From the drain line, the oil enters through the pipe 4 into the cavity of the filter housing 2 and through the filter elements 3, the pipe 1 of the filter goes to the tank.
If the filter elements are excessively clogged, the pressure in the drain line increases, as a result of which the ball valve 5 opens and the oil drains into the tank bypassing the filter element.
The passage of oil through the valve is accompanied by a specific noise, which indicates the need to clean the filter.