The technical condition of the steering can be approximately determined by the amount of free play (backlash) of the steering wheel
The maintenance of the steering includes its inspection, checking the fastening of the units, the free play of the steering wheel, checking and adjusting the axial play in the propeller bearings, the clearance in the gearing of the steering gear, as well as lubrication according to the car's lubrication map.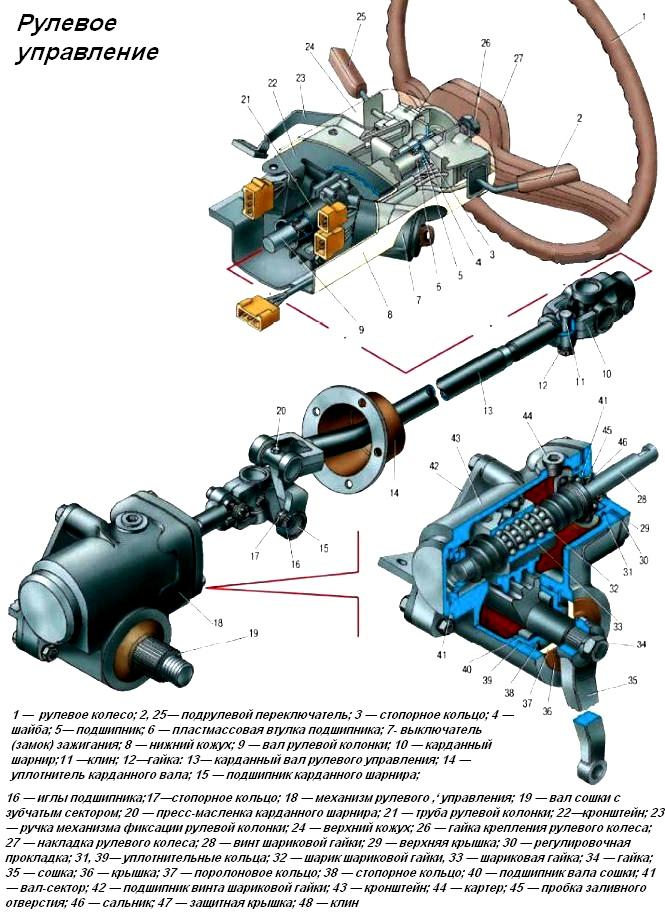 When inspecting the steering, it is necessary to check the fastening of parts.
All nuts and bolts securing the steering wheel, steering column, steering gear case, cardan steering gear, bipod and steering link arms must be securely tightened to the torques indicated below.
Next, check the free play of the steering wheel in the position of the front wheels, corresponding to the movement of the car in a straight line.
The amount of steering wheel free play should not exceed 25° for GAZ-2705 and GAZ-2705 Kombi (and for buses - 20°).
If, after checking all the steering elements and eliminating the identified malfunctions, the free play of the steering wheel is 25 ° for the GAZ-2705 and GAZ-2705 Kombi (for buses - 20 °) or more, then it is necessary to adjust the tightening of the screw bearings and gearing steering gear.
Steering wheel adjustment
The steering column must be adjusted after adjusting the driver's seat in relation to the control pedals.
For this you need:
- turn the handle 23 towards you and up, loosening the fixation of the steering column;
- set the steering wheel to a comfortable position;
- fix the selected position of the steering column by turning the handle 23 down and away from you.
If you need to adjust the column fixation mechanism, you must:
- remove the lower cover 8 by unscrewing two screws and releasing it from the lower retainer;
- remove the upper casing 24, bringing the column as close as possible to the driver;
- after loosening the locknut, tighten the bolt to a torque of 9.0—12.5 Nm (0.9—1.25 kgf/m);
- fix the lock nut with a torque of 14-18 Nm (1.4-1.8 kg / cm), eliminating the unscrewing of the bolt;
- check column fixation;
- install the upper and lower covers.