The YaMZ-6583.10 engine is designed for installation on flatbed vehicles, chassis, truck tractors, dump trucks manufactured by KrAZ Holding Company
The YaMZ-6583.10 engine is structurally based on the YaMZ-7511.10 engine with individual cylinder heads and differs in technical characteristics due to the installation of electrically controlled fuel equipment with a Compact-40 injection pump with an electronic regulator, a change in the design of a number of engine components and parts, with closed crankcase ventilation system.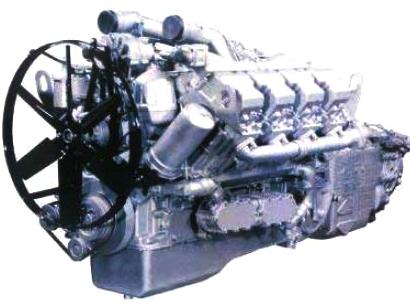 The YaMZ-6583.10 engine complies with the requirements of Euro-3 environmental standards.
Key parameters and characteristics of the YaMZ-6583.10 engine
Compression ratio - 17.5
Rated power, kW (hp) - 264.7 (360)
Rated speed, min-1 - 1900 −20+50
Maximum torque, Nm (kgf m) - 1569 (160)
Rotational speed at maximum torque, min-1 - 1100…1300
Rate at idle, min-1:
- maximum, no more than - 2150
- minimum - 600±50
Specific fuel consumption by speed characteristic, g/kW h (g/hp h):
− minimum, at a speed of 1300±200, min-1 - 200 (147)
Relative oil consumption for waste in % to fuel consumption, no more than - 0.1
Speed ​​response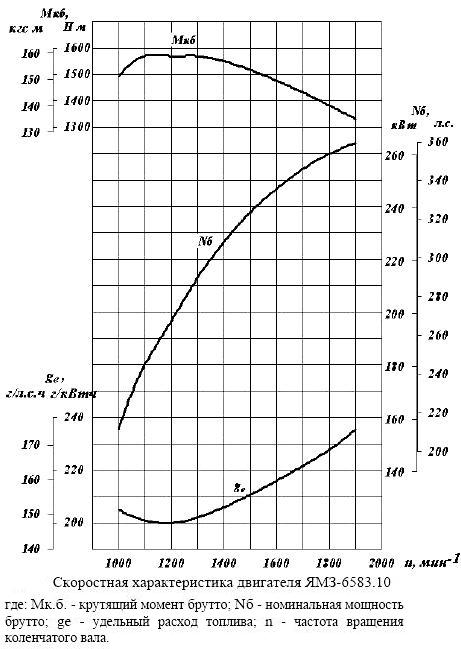 Model of injection pump with electronic control system (ECS) - 179.1111002-30
Injection pump model without ESU - 179.1111005
Nozzle - 51.1112010-21
Speed ​​controller (speed) - Electronic ESU-1A
Fuel injection advance setting angle, degrees 2+1
Electronic control unit (ECU) with microprocessor software - 179.3763001-30
Electronic control system sensors:
− synchronization (speed) - Induction DS-1
− charge air pressure - 23.3855
− position of the actuator (high pressure fuel pump rails) - 36.3855-20
− temperatures - 233.3828
− fuel temperature - 192.3828
− pedal module - KDBA 453621.003
Electrical Harness - Attached to the Engine
Turbocharger - TKR 100
Crankcase ventilation system - closed type with suction into the air intake system before the TKR, with an oil separator and a pressure control valve
The fan is eight-bladed, with a diameter of 660 mm, with a gear drive and a friction clutch for automatic and manual activation of the fan.
Auto start temperature is at least 85°C. Drive ratio - 1.31
Emergency stop air damper (solenoid installed in the intake pipe after the aftercooler) - Solenoid operated (with manual cocking and deflation)
Alternator - alternating current, V-ribbed belt driven, rated voltage 28 V.
Generator drive gear ratio - 3.67
Model 7762.01-03 with a maximum load current of 80 A
Starter - Model AZF 4581, Iskra (Slovenia), voltage 24 V
Grip
For engines without a gearbox, clutch hub splines according to SAE (two inches) - Model YaMZ-184-15
Gearbox - Model YaMZ-2391-20
Filling volumes, l:
− engine lubrication system - 32
− engine cooling system (without water cooler volume) - 22
Weight of the unfilled power unit in the scope of delivery, kg:
− without clutch and gearbox - 1250
− with clutch and gearbox - 1660