The diesel power supply system, in accordance with the configuration of diesel engines, consists of:
- Common RAIL common rail injection system, including a fuel pump,
increasing gearbox of the injection pump drive, injectors, high-pressure fuel accumulator, speed sensors (crankshaft and input shaft of the injection pump drive gearbox), sensors of the state of the working environment (pressure and temperature of fuel and air), electromagnetic actuators (fuel pressure regulator , injector solenoid valves), electronic control unit;
low pressure fuel lines;
high pressure fuel lines; intake manifold; exhaust manifold;
turbocharger;
fine fuel filter; pre-filter (coarse) fuel filter, air cleaner, fuel tank, charge air cooler, muffler.
In the diagram of the diesel power system, a means of facilitating the start of a diesel engine at low ambient temperatures is indicated - a glow plug.
Scheme of the diesel power system is shown in Figure 1.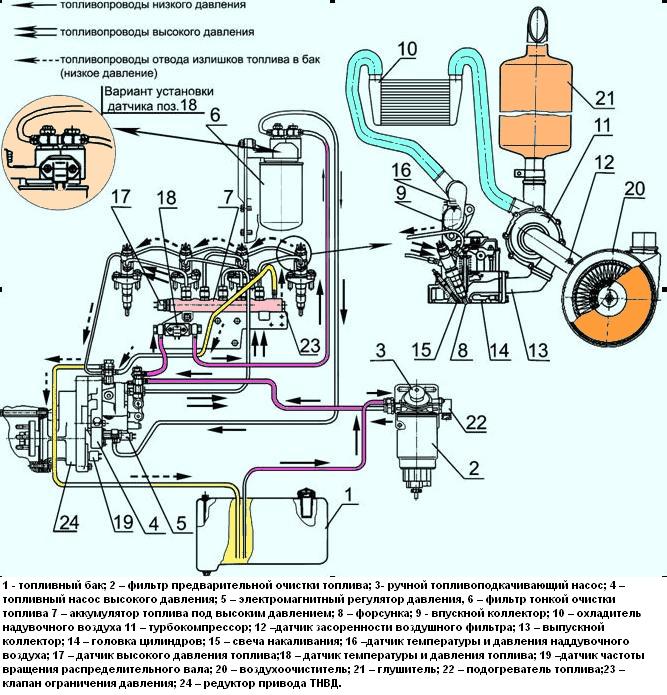 Scheme of control and control circuits of the COMMON RAIL power supply system is shown in Figure 2.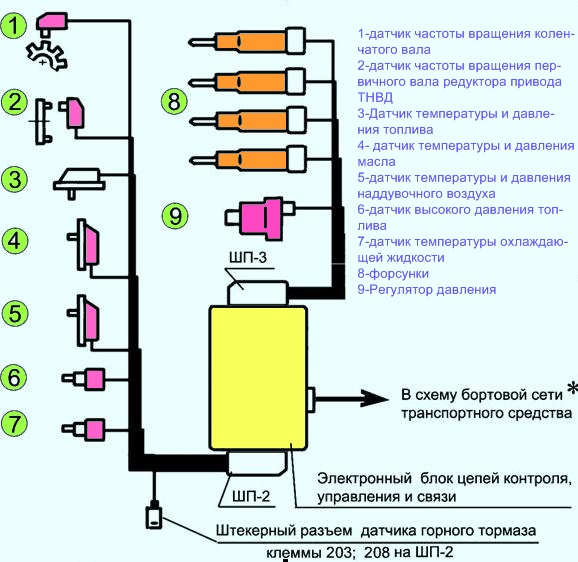 Location of sensors and actuators in Figure 2 and in the table.
Power to the electronic control, control and communication circuits must be supplied directly from the battery terminals yards.
Crankshaft frequency sensor mounted on the timing cover
The speed sensor of the input shaft of the injection pump drive gearbox is installed on the gearbox housing of the high pressure fuel pump
The fuel temperature and pressure sensor is installed on the fuel line route from the booster pump to the fine fuel filter or in the fine fuel filter housing
The oil temperature and pressure sensor is installed in the cylinder block
The charge air temperature and pressure sensor is installed in the intake manifold
High fuel pressure sensor installed in the fuel rail
The coolant temperature sensor is installed in the thermostat housing
Pressure regulator installed in high pressure fuel pump