The location of the gears of the drive mechanisms of the engine, subject to restoration or replacement in the process of repairing the engine, is shown in fig. 1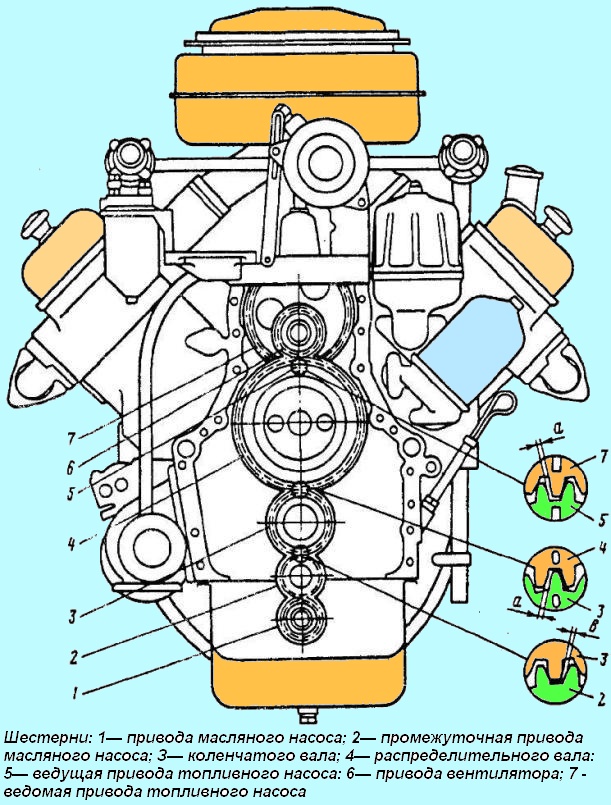 The condition of the working surfaces of the gear teeth is checked by external inspection.
Gears with contact destruction (pitting), grooves, chips, cracks, scuffs and nicks must be replaced.
Gears that do not have defects are checked in backlash-free engagement with a control (reference) gear having a tooth thickness along the pitch circle arc of 3.927 mm for compliance with the parameters of acceptable standards (Table 1).
Due to the fact that all gears are assembled and run in pairs, it is not recommended to unassemble them.
If, after checking for backlash-free gearing, some of them are rejected and the completeness is broken, you need to complete a pair of gears according to the tooth contact patch.
The contact patch should be in the middle of the tooth and occupy an area of ​​at least 40% of its length and 45% of its height, since the camshaft gear, the oil pump drive intermediate gear and the fuel pump drive drive gear are barrel-shaped.

In an impersonal repair, when the completeness is broken, the engine gears must be checked for contact of the teeth with the control gear.
Each set of control gears must include three gears fitted together so that the contact patch of any of them with another included set covers 100% of the length 60% of the height of the tooth.
Of the three control gears that make up the kit, only one is allowed to be used as a working gear for checking engine gears.
For the remaining two, the working gear is periodically checked, and when the latter is worn, a new control gear is made.
In this case, the contact patch of the new engine gears in engagement with the control gear must be at least 80% in length and 55% in tooth height, and for gears that were in use, not less than 70% in length and 45% in height tooth.
It is allowed to reduce the tooth contact spot in height by up to 30%, provided that it is located in the zone of the dividing circle.
For gears with a barrel tooth, contact along the length is allowed up to 40%.
The correct position of the contact on the tooth surface of the new gear is shown in fig. 2, a.
The presence of edge contacts on the root of the tooth, bifurcated contact (Fig. 2, b) and stray contact (Fig. 2, c) are not allowed.
Permissible parameters of motor gears
Gear

Reduce

distances

between axes

against

theoretical,

mm.

Beating

within

one

Gears, mm.

Beating off

tooth to tooth,

mm

Crankshaft

0.28

0.07

0.03

Camshaft

0.28

0.09

0.03

Main drive

fuel pump

0.28

0.08

0.03

Driven

0.28

0.08

0.03

Fan drive

0.28

0.07

0.03

Drive driven

oil pump

0.28

0.08

0.03

Intermediate drive

oil pump

0.28

0.07

0.03