The input shaft 13 is mounted on two ball bearings.
The input shaft front bearing with collar is located in the crankshaft seat, the rear bearing is in the bore of the front end of the gearbox housing
After axial movements, the rear bearing is fixed by a retaining ring installed in the groove of its outer ring.
The input shaft is integral with the gear. The front part of the shaft, which passes into a cylindrical neck for the front ball bearing, has splines.
Clutch disc hubs are installed on the splines of the shaft.
The input shaft gear is helical, constantly meshing with gear 9 of the intermediate shaft drive; has an internal ring gear designed for connection with the ring gear of the synchronizer carriage, and an internal cylindrical hole for installing the front roller bearing of the secondary shaft.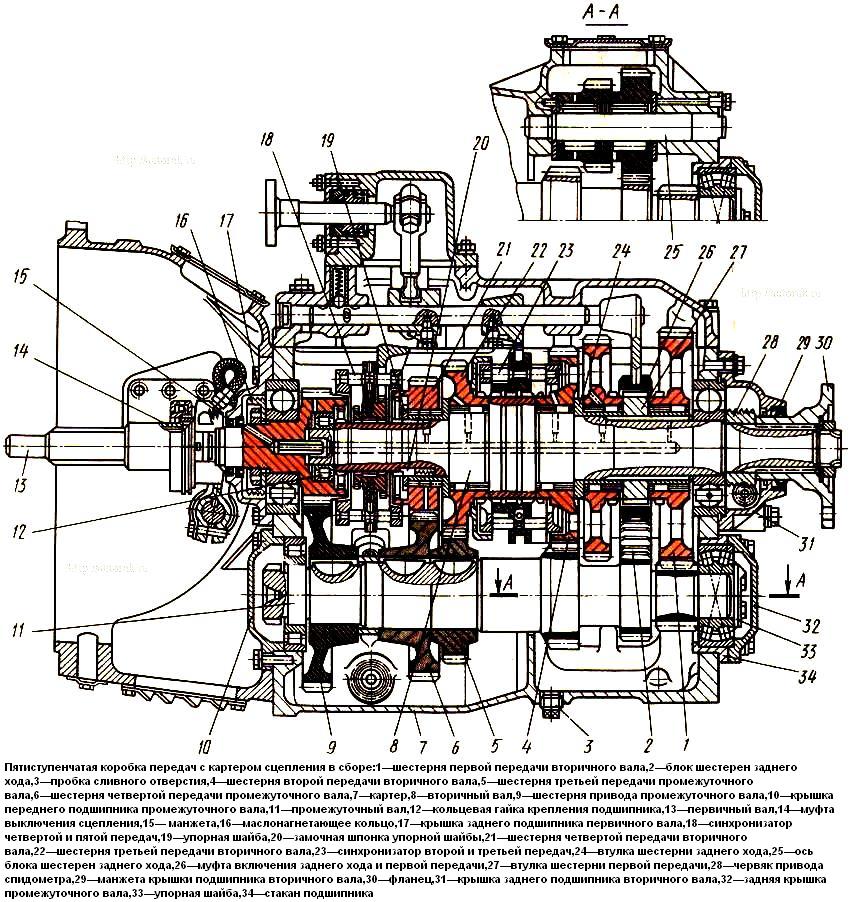 The rear input shaft bearing is pressed onto the cylindrical neck of a larger diameter until it stops against the front end of the gear.
The bearing is fixed against axial movements on the shaft with a nut 12 through the oil injection ring 16.
The nut on the shaft is two-pointed.
The oil pressure ring is designed to force the supply of lubricant to the bearings of the pinion shaft gears.
It has a right three-start screw thread on the outer surface, which pumps oil into the discharge cavity when the input shaft rotates.
The oil injection ring is secured against rotation by a ball installed in the input shaft hole and entering the groove of the ring.
Inclined and longitudinal holes are made in the shaft for the passage of lubricant.
An oil bypass sleeve is inserted into the longitudinal hole, which ensures the supply of lubricant to the longitudinal channel of the secondary shaft.
For the circulation of lubricant through the front bearing of the output shaft, radial drillings are made in the gear body.
The input shaft assembly with the rear bearing is installed in the crankcase bore and closed with cover 17.
Adjusting gaskets are installed between the cover and the bearing, and sealing gaskets are installed between the cover and the crankcase.
Before installing the cover, two self-clamping cuffs 15 are placed in an internal cylindrical seat of a smaller diameter, preventing oil from passing into the clutch housing.
The working edges of the cuffs have a right notch, and the arrow on the cuff itself indicates the direction of rotation of the shaft.
The outer neck of the input shaft cover is machined to allow movement of the clutch release.
Axial forces arising from the operation of the gearbox are perceived by the rear input shaft bearing.