Diaphragm spring clutch
The clutch of the car is single-disc dry with a central diaphragm spring, hydraulically actuated
The clutch release bearing is in constant contact with the petals of the diaphragm spring.
Clutch release fork free play is not adjustable.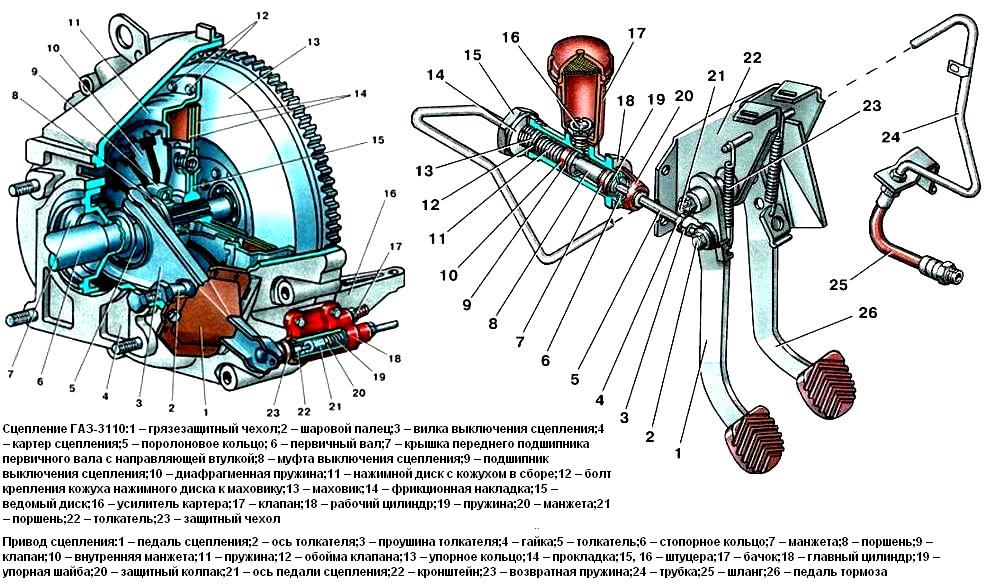 Clutch housing 4 (see fig. 1.
Clutch with diaphragm spring) one-piece, cast aluminum alloy, attached to the cylinder block with ten bolts of different lengths.
Of these, the two right bolts are both starter and eyebolt mounts.
A crankcase booster 16 is installed in the lower front part of the crankcase, which is attached directly to the crankcase with two lower bolts, and to the cylinder block with four bolts.
The pressure plate 11 is connected to the casing by connecting plates.
The connecting plates are riveted to the casing on one side and to the pressure plate on the other.
A 10 slotted disc-type diaphragm spring is installed between the pressure plate and the casing and is clamped by two support rings.
The driven disk 15 consists of a hub with a torsional vibration damper and a disk with friction linings 14.
The friction linings are riveted to the disc leaf springs with aluminum rivets on both sides.
The clutch release drive is hydraulic and consists of the main 18 and working 18 cylinders, clutch pedal 1, tube 24 of the hydraulic clutch release and hose 25.
The clutch pedal is connected to the master cylinder by means of pusher 5, which has an adjusting unit.
Fork 3 for disengaging the clutch (see Fig. 1 Clutch with diaphragm spring) stamped.
It transmits the force from the pusher 22 of the working cylinder to the clutch release bearing 9.
The axis of rotation of the fork is the ball pin 2, which is bolted to the rear of the clutch housing.
To protect clutch parts from dust and dirt, a dirt-protective cover 1 is used, fixed to the clutch housing with one bolt.
Clutch release bearing 9 is closed type and does not require lubrication during operation. It is pressed onto clutch release 8.
Nominal and maximum allowable dimensions, fit of mating parts of a diaphragm spring clutch
Friction lining diameter:
- outer 225 mm;
- inner 150 mm
The thickness of the friction lining is 3.5 mm
The minimum size of the rivet head sinking relative to the friction lining is 0.2 mm
Clutch pedal travel: 145-160 mm