Hinges are used to open the cabin door and hold it in a vertical position, and a roller-type door stop is used to limit the opening angle and fix (hold) the door in the open position
The door hinges are equipped with metal-fluoroplastic bushings and do not require maintenance in operation. to replace the cabin door in case of damage, there is a bolted connection on the hinges, by unscrewing it and disconnecting the limiter lever (it is necessary to remove the pin), you can remove the door from the cabin.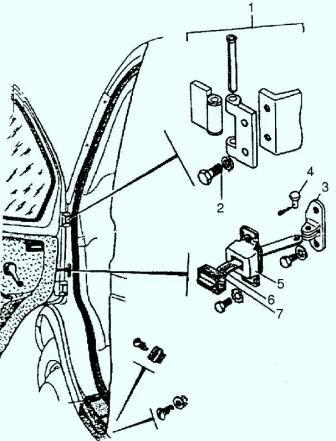 Fig. Cabin door hinge:
Installing a new or repaired door is done in the reverse order: it is fixed on the cab, and then the limiter lever is attached.
In case of breakage (breakage) of the limiter lever, it should be replaced.
Operation of the car with a broken lever is not allowed due to possible damage to the door.
Replacement of the limiter lever should be carried out in the following order:
- remove the window handle;
- remove the socket of the internal drive handle;
- remove the handrail on the door;
- remove the upholstery and anti-noise pad;
- remove the cotter pin and the pin of the bracket limiter lever;
- remove the broken lever;
- install a new lever with a buffer;
- do the rest of the assembly in reverse order.