The bearings should be adjusted when an axial or radial clearance appears in the propeller bearings 2 To make sure that these clearances are present, you must:
- turn the steering wheel 2.½ turns from the straight ahead position in any direction;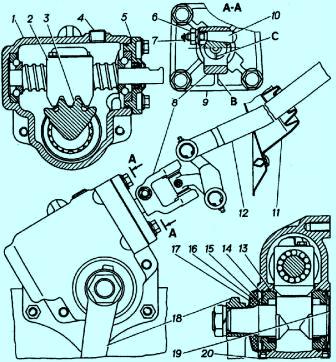 - shake the steering screw for the fixed fork by hand; if at the same time the screw will have axial or radial movement (play of the fork relative to the steering gear cover), then the screw bearings must be adjusted.
Adjustment is done in the following sequence:
- disconnect the bipod 18 and the fork shaft 12 of the steering wheel;
- unscrew the bolts securing the steering gear to the bracket and remove the steering gear from the car;
- drain the oil through the hole closed by plug 4;
- remove two plugs 20 on the crankcase;
- remove two covers 17 and 19 and sponge seal 16 of the sector shaft;
- remove retaining ring 14;
- straighten the holes on the sector shaft bearings with a beard and remove them with a puller, eliminating shocks and distortions on the bearing;
- remove shaft-sector 3;
- unscrew the bolts securing the upper crankcase cover, remove the cover and remove one of the shims 5;
- install the crankcase cover in place and check the torque of the screw in the bearings.
The torque should be 0.4-0.8 Nm (4.0-8.0 kgf/cm). In this case, no play of the screw should be felt;
- install the shaft-sector 3 and bearings, lubricating the seating surfaces and sealing rings with oil for the steering mechanism.
During installation, the bearings should be eccentric downwards (the shaft-sector is as far as possible from the ball nut).
Skewing during assembly is not allowed.
Jamming of bearings on the shaft-sector or crankcase indicates misalignment or incorrect orientation of the bearing eccentricities;
- adjust the engagement in the nut-sector pair;
- fix the bearings of the shaft-sector from rotation by bending the shoulder on the bearings into the holes on the crankcase;
- assemble the steering mechanism in reverse order;
- install the steering mechanism on the car;
- pour oil;
- install the bipod 18 and the shaft yoke 12 (when installing the wedge 10, the nut 6 and washers should be on the side of the machined end on the yoke 8).