Cylinder liners and seating surfaces of the cylinder block under the liners should be wiped with a cloth and blown with compressed air
Install cylinder liners into the diesel block
The protrusion of the cylinder liner flanges above the plane of the block when pressing the liner with a force of 9±0.1 kN should be 0.05-0.11 mm.
Before installation in the block, the rubber sealing rings and the leading part of the liner must be lubricated with M10G2 engine oil GOST 8583-78.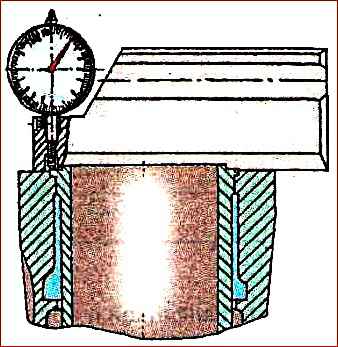 When installing cylinder liners into the block, cutting the rubber sealing rings is not allowed.
After installing the cylinder liners and tightening the bolts (nuts) securing the process heads, the block must be checked for leaks with water under a pressure of 0.6 MPa for 1 minute.
Water flow and dripping are not allowed.
The non-roundness of the inner surface of the cylinder liners after installing them in the block and tightening the process head bolts should not exceed 0.04 mm at a length of 100 mm from the lower end of the liner and 15 mm from the top.
Maximum force for pressing sleeves - no more than 3000 N.
The camshaft with gear must be installed taking into account the maximum axial movement - no more than 0.25 mm.
The head gasket must be installed with the wide side of the frame facing the block.
Cylinder liners according to the inner diameter and pistons according to the outer diameter of the skirt are sorted into three size groups.
The designation of groups (B, C, M) is marked on the upper flange of the liner and on the piston bottom.
The dimensions of the inner surface of the sleeve by size groups are given in the table.
Size groups of pistons and cylinder liners
Designation

dimensional

groups

Skirt diameter

piston, mm

Sleeve diameter

cylinder, mm

Gap between

piston

and sleeve, mm

B

110-0.05-0.07

110+0.06+0.04

0.09-0.13

С

110-0.07-0.09

110+0.04+0.02

0.09-0.13

M

110-0.09-0.11

110+0.02

0.09-0.13
Installation of sleeves of repair size 110.7 mm is allowed.
In this case, the gap between the liner and the piston of the repair size of 0.09-0.13 mm must be ensured by selective selection.