Mechanism for lifting and lowering the platform of dump trucks KAMAZ-5511 and KAMAZ-55102
Additional equipment of dump trucks includes a platform lifting and lowering mechanism, which provides lifting and lowering of the platform;
- stop it in any intermediate position in the process of lifting or lowering; automatic limitation of the maximum lifting angle and pressure in the hydraulic system.
The mechanism for lifting and lowering the platform is electro-pneumatic, remote, carried out from the driver's cab by switches installed on the instrument panel.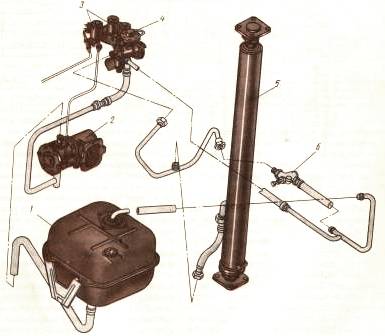 The hydraulic mechanism for lifting the platform of the KamAZ-5511 dump truck: 1 - oil tank, 2 - power take-off, 3 - electro-pneumatic valves, 4 - control valve, 5 - hydraulic cylinder, 6 - platform lifting limitation valve
The hydraulic lifting mechanism (Fig.) consists of a power take-off box 2 with an oil pump, a hydraulic cylinder 5 of a control valve 4, a valve 6 for limiting the platform lift, electro-pneumatic valves 3, an oil tank 1 with a filter and a system of pneumatic and hydraulic pipelines.< /p>
In addition to the specified unified units, the KamAZ-55102 dump truck platform lifting mechanism has a locking device designed to connect the tractor hydraulic system with the trailer hydraulic system, and a hydraulic distributor that can direct the oil flow to the trailer hydraulic cylinder.
The distributor is attached to the control valve.