Maintenance of cardan drive Kamaz
For trouble-free operation of the cardan transmission, it is important to securely tighten all bolted connections, therefore, during maintenance, it is necessary to tighten the bolts securing the flanges of the cardan shafts.
Over time, wear of needle bearings and spider necks is possible, which is accompanied by accelerated wear of the holes in the forks and the spline connection of the cardan shaft.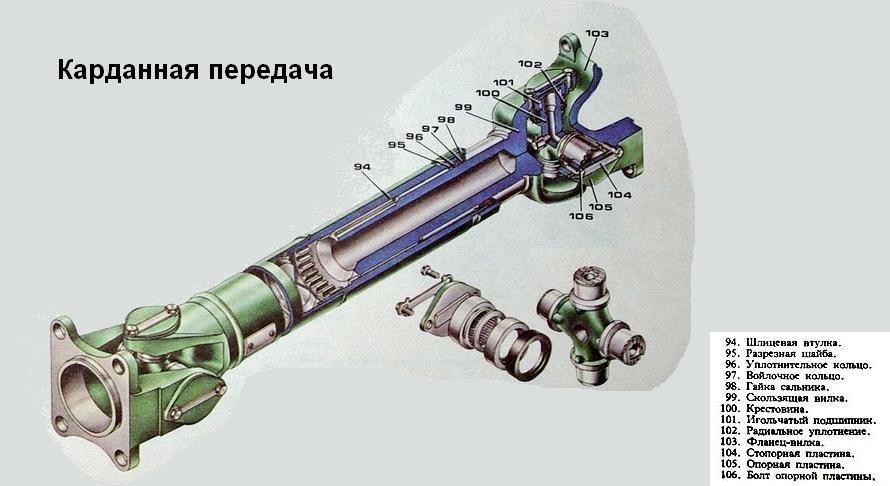 During maintenance, it is necessary to carefully check the play in the hinges of the cardan shafts and timely troubleshoot.
The cardan shaft joints of vehicles with a 6X4 wheel arrangement, as well as the joints of the cardan shaft of the rear axle drive of KamAZ-4310 and KamAZ-43105 vehicles, require periodic lubrication through grease fittings screwed into the joints of the joints. The lubricant is injected until a fresh layer is squeezed out from under the edges of each hinge seal.
A malfunction of the driveline is evidenced by knocks that are clearly audible when the vehicle's driving mode changes abruptly.
Most often, vibration is the result of an imbalance in cardan shafts, which can be caused by wear of cardan joints in spline joints, shaft deformation (deflections and dents), loss of balancing plates, improper installation of parts after disassembling cardan connections.
Loose fork fastening leads to gaps in the joints of their flanges, development of holes in the flanges and breakage of the bolts of their fastening.