Removing the front door
Open the front door.
Disconnect the wires if the door is equipped with electrical equipment.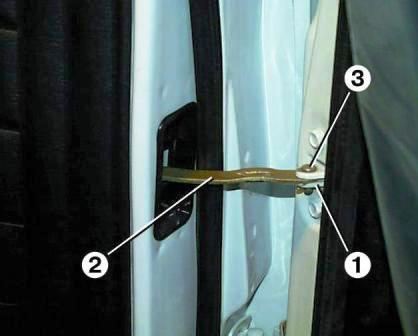 Remove pin 1, then pin 3 and detach limiter lever 2 from the bracket.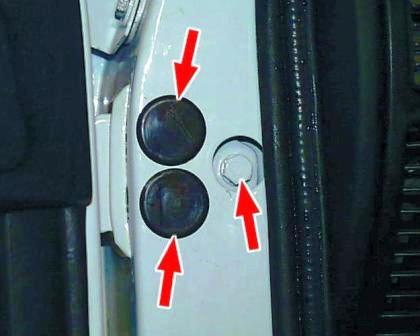 Remove the plugs, unscrew the three bolts securing the hinges to the door and remove the door.
When replacing, it is necessary to remove all fittings from the old door and rearrange it to a new one.
Install in the reverse order, while you need to adjust it.
Door adjustment
Remove the door trim.
Loosen three bolts securing the door to the hinges.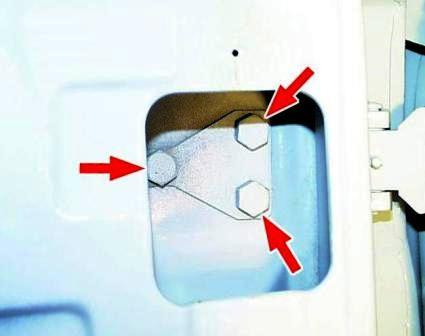 Close the door carefully and set it so that the gaps in the openings around the entire perimeter are the same.
Fix the door in this position by substituting stops under it.
Tighten the bolts securing the hinges to the door.
Set upholstery.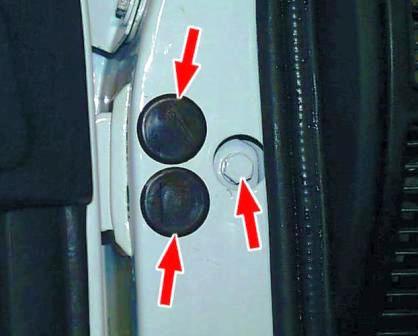 If this adjustment does not ensure reliable closing and ease of opening the door, it is necessary to adjust its position by attaching the hinges to the rack.
To do this, remove the plugs, loosen the fasteners (three bolts for the front door or two screws and one bolt for the rear) of the hinges to the rack so that the hinges can be moved with little effort.
Adjust the position of the hinges.
After that, finally tighten the fasteners and install the plugs.