The ZMZ-40524.10 engine is a modification of the ZMZ-40522.10 engine in order to meet Euro3 toxicity standards and increase its reliability and service life
ZMZ-40524 engines. 10 are designed for installation on trucks and buses of the GAZelle family with a gross weight of up to 3500 kg and on cars of the Sobol family with a gross weight of up to 2980 kg, manufactured by GAZ OJSC.
Motors are produced in U2 climatic version, designed for operation in temperate climates at ambient temperatures from minus 45°C to plus 40°C and relative air humidity up to 100% at a temperature of plus 25°C.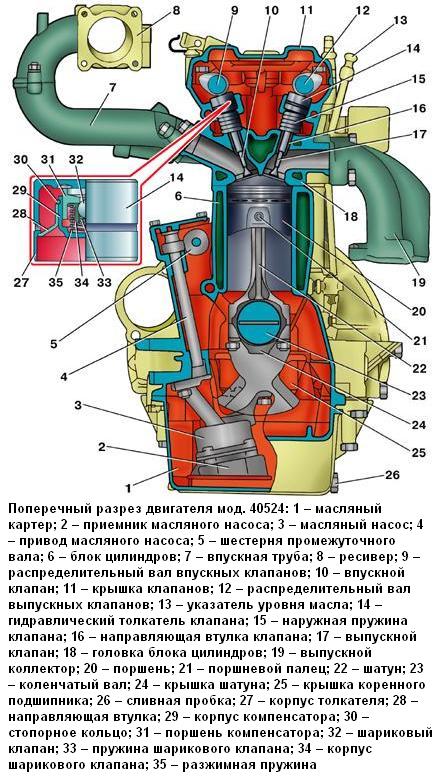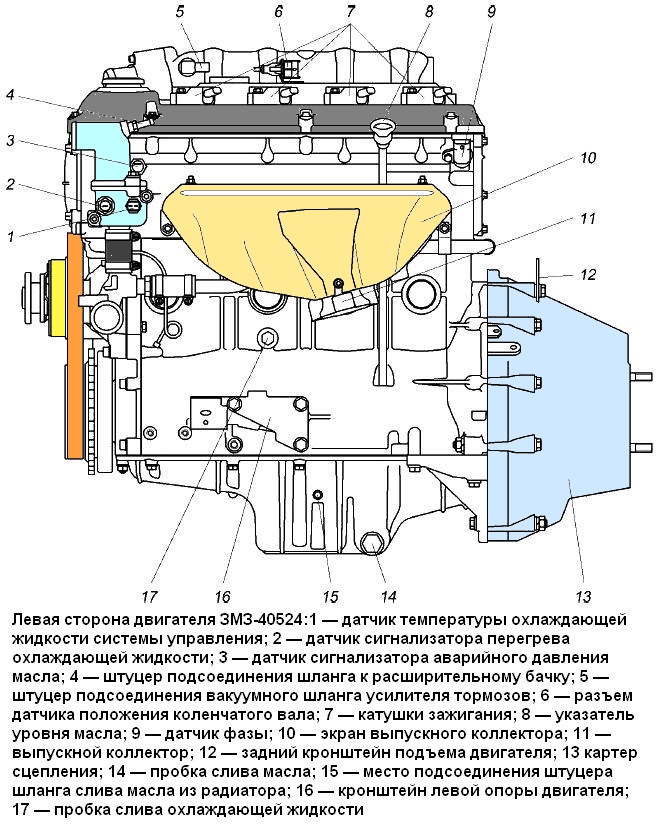 Cross section of the ZMZ-40524 engine in Figure 1.
The left side of the ZMZ-40524 engine in Figure 2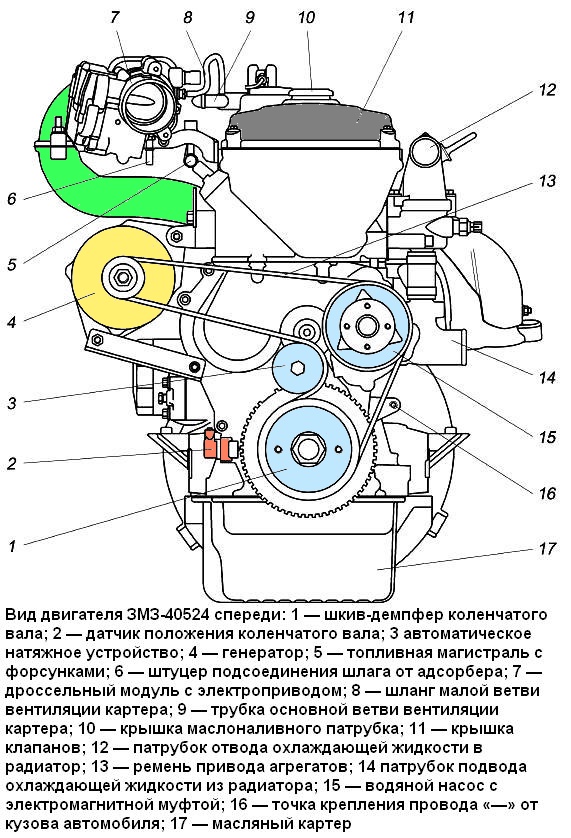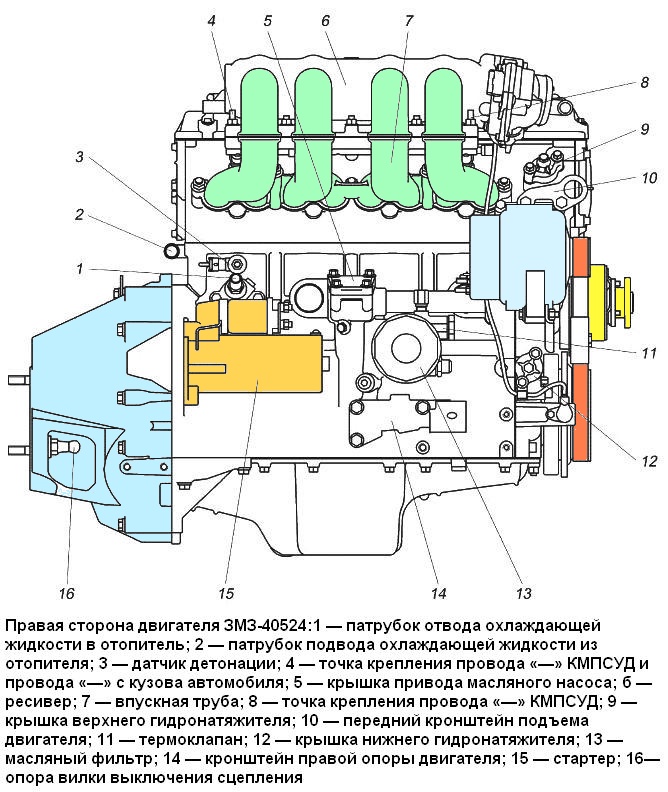 The right side of the ZMZ-40524 engine in Figure 4
Front view of the engine ZMZ-40524 in Figure 3
The cylinder block is cast from gray cast iron and is made in the form of a monoblock with the crankcase part lowered below the crankshaft axis.
Between the cylinders in the upper part there are ducts made in the casting for the passage of coolant
There are five main bearing seats at the bottom of the block.
Ductile iron main bearing caps are machined with the cylinder block and are therefore not interchangeable.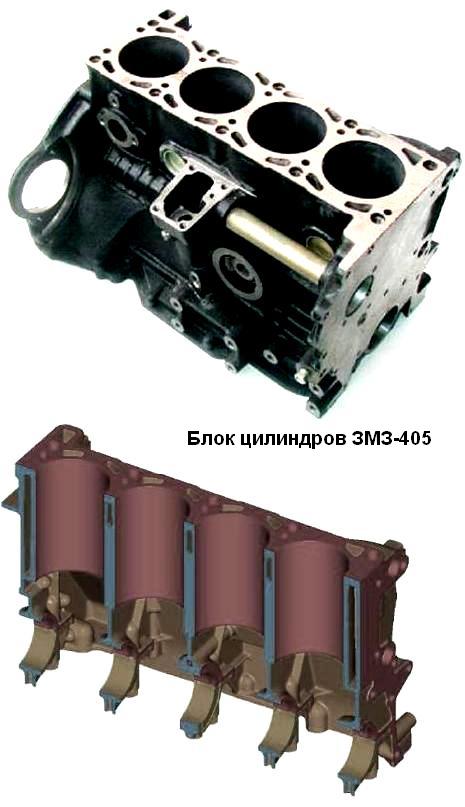 On the bottom surfaces of the 1st, 2nd and 4th covers, their numbers are embossed for correct installation. When installing the covers, the locking grooves for the liners in the cylinder block and in the covers should be located on one side.
Blocks with holes in the cylinder walls, with cracks on the upper plane of the block and on the ribs supporting the main bearings, with holes in the water jacket and crankcase are to be rejected.
As a result of natural wear, the cylinders in the block acquire the shape of an irregular cone along the length, and an oval along the circumference.
The wear reaches the greatest value in the upper part of the cylinders against the upper compression ring, when the piston is at TDC, the smallest is in the lower part, when the piston is at BDC.
Cylinders and pistons are divided into five size groups A, B, C, D, E
The cylinder group letter is inked on the left outer side of the block opposite each cylinder.
All cylinders in one block should, as a rule, be machined to the same repair size with a tolerance of +0.036...+0.072 mm from the face value, except when it is required to remove shallow scratches on the cylinder mirror (within the magnification cylinder diameter by 0.10 mm), only defective cylinders can be repaired here.
Technical characteristics of the engine and its systems
Four-cylinder, four-stroke, single-row gasoline engine with integrated fuel injection, ignition and air intake control
Cylinder diameter and piston stroke - 95.5x86 mm
Cylinder displacement - 2464 cm3
Compression ratio - 9.4
Cylinder order - 1-3-4-2
The direction of rotation of the crankshaft (from the side of the pulley) is right
Rated power at a speed of 4500±50 min-1 gross according to GOST 14846 - 98.0 (133.3) kW (hp)
Maximum torque at a speed of 4000±200 min-1 gross according to GOST 14846 - 214.0 (21.8) Nm (kgcm)
Power system - Distributed fuel injection by electromagnetic injectors into the intake pipe
Air filter - With dry replaceable filter element (installed on the car)
Ventilation system - Closed, forced, with vacuum valve
Lubrication system - Combined, with automatic oil temperature control
Oil filter - Full flow, non-separable, fine cleaning 406.1012005-01 or 406.1012005-02
Cooling system - liquid, closed, with forced circulation of liquid
Terbridge - two-valve, with main valve opening temperature 82±2˚ C - TS 107-05 or TP2-01 or TA107-05
Electronic control system - Controls air supply, distributed fuel injection by electromagnetic injectors into the intake pipe and ignition
Spark Plugs - DR17YC/A
Electrical equipment - DC, single-wire, negative terminals of sources and consumers are connected to the motor frame
Rated voltage - 12 V
Generator - with built-in rectifier unit and voltage regulator 5122.3771 or 4052.3701000 (AAK 5572 14U 80A 11.203.412)
Starter - with remote electromagnetic activation and gear 6012.3708 or 405.3708000 (AZE2154 12V1,9 kWz9 11.131.262)
sensor of the signaling device for overheating of the coolant - thermistor type TM111-02
Emergency oil pressure switch sensor - contact type 2602.3829 or 4021.3829 or 6012.3829
Clutch - dry, single plate, with diaphragm pressure spring
Pressure in the lubrication system on a warm engine at the installation site of the emergency oil pressure sensor at an idle speed of 850±50 min-1, not less than 98 (1.0) kPa (kgf) /cm2)
The gap between the electrodes of the spark plugs is 0.7...0.85 mm
Operating temperature of the coolant - 80...110 °C
Minimum idle speed - 850±50 min-1
Increased crankshaft speed - 3150±50 min-1