Remove and disassemble the master brake cylinder in the following order:
Disconnect the lines from the brake master cylinder to the warning device.
Disconnect the warning device from the brake master cylinder.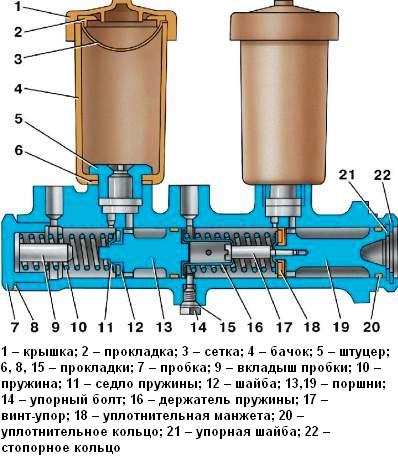 Fig. 1. Brake master cylinder
Disconnect the brake master cylinder from the vacuum booster.
Unscrew the stop bolt 14 (see Fig. 1).
Remove the circlip 22 and take out the thrust washer 21.
Remove the primary chamber piston assembly 19.
Unscrew plug 7, remove plug insert 9, return spring 10 and secondary chamber piston assembly 13.
It is not recommended to remove tanks 4 unnecessarily. If necessary, to remove them, unscrew the tank caps 1, remove the nets 3 and unscrew the fittings 5 ​​for fastening the tank bodies.
Remove the piston assembly 19 only towards the flange, and the piston assembly 13 - towards the opposite end.
Remove the pistons carefully so as not to damage the sealing collars 18 and rings 20.
If the pistons do not come out freely from the cylinder, first slightly push piston 13 with piston 19, and then carefully push piston 19 out by pressing (through the freed cavity) with a screwdriver or other object on spring holder 16 or spring holder screw 17.
Assemble and install the master cylinder in reverse order. At the same time, install the assembled pistons into the cylinder carefully and only from the side of the ends of the cylinder corresponding to them.
To avoid damage to the seals and rings, do not push the pistons through the entire cylinder cavity.
When assembling the piston 19, screw the screw 17 all the way into the piston. Screw the thrust bolt 14 into the crankcase only after installing the assembled piston 19, washer 21 and retaining ring 22.
Torques:
- stop bolt 14 - 8–10 Nm (0.8–1.0 kgf m);
- fitting 5 - 16–22 Nm (1.6–2.2 kgf m);
- plugs 7 - 167–186 Nm (17–19 kgf m).