Replacing the radiator of a GAZ-3110 car
We remove the car engine cooling radiator for washing or for repair and replacement
1. Disconnect the wire from the "negative" battery terminal
2. Drain the cooling system.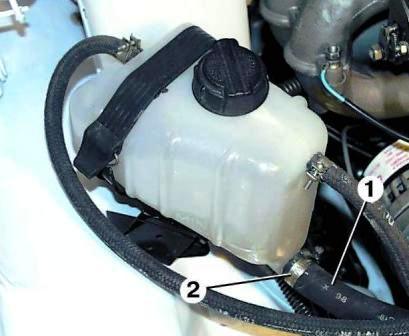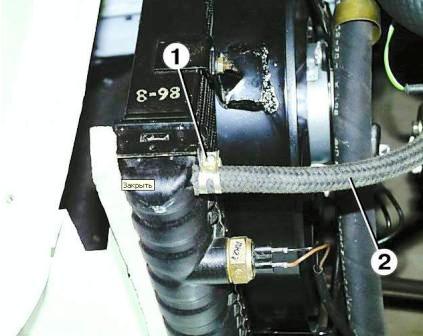 3. Loosen clamp 2 and disconnect hose 1 from expansion tank.
4. Loosen clamp 1 and disconnect steam outlet hose 2 from the radiator.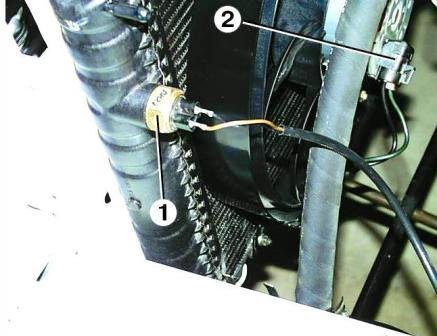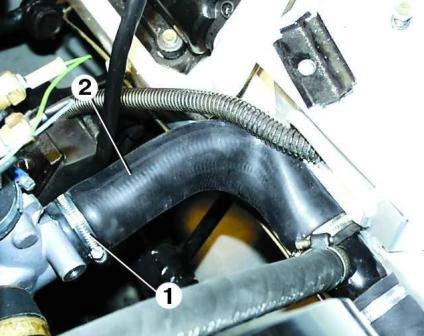 5. Disconnect the wires from the sensor 1 for turning on the fan and from the block 2 of the fan motor.
6. Loosen the clamp 1 and disconnect the radiator outlet hose 2 from the water pump.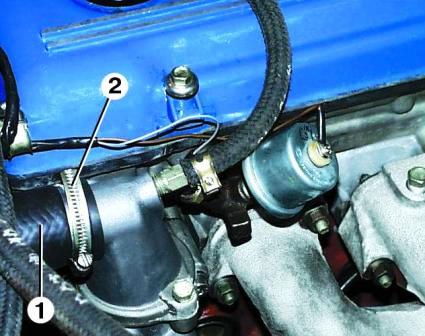 7. Loosen the clamp 2 and disconnect the radiator supply hose 1 from the thermostat housing cover.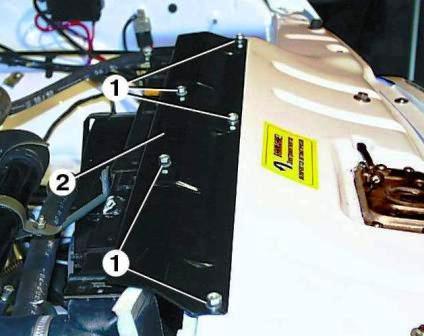 8. Loosen the five screws 1 and remove the top plate 2. On the engine mod. 4062 remove the radiator assembly with hoses, fan and fan shroud up.
On engines mod. 402 and 4021 unscrew the nuts securing the fan shroud to the radiator.
Then slide the shroud onto the fan and lift the heatsink up.
9. Disconnect the hoses from the radiator.
Remove the four nuts 1 and remove the fan cover 2 with the fan.
If you need to remove the fan from the casing, unscrew the three nuts 3. Unscrew the sensor 4 of the fan motor.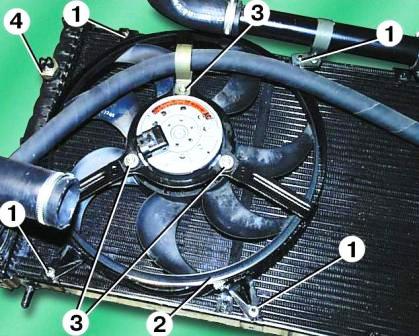 Inspection
1. Rinse the outside of the radiator with a jet of water and dry it.
If the plastic radiator tanks are cracked, replace the radiator.
2. Check the tightness of the radiator, for which plug the radiator pipes, except for one, to which connect a hose for supplying compressed air.
Immerse the radiator in a bath of water and apply air at a pressure of 1 atm for about 30 seconds.
Air bubbles will come out in places where there is no tightness. In this case, replace the radiator.
3. Inspect the radiator mounting pads, if they are torn, cracked or the rubber has lost elasticity, replace the pads.
Installation
Install the radiator in the reverse order of removal.
When installing the radiator, the locating pins on the bottom of the radiator must fit into the rubber mounting pads of the radiator.