Checking and replacing the ball joints of the GAZ-3110 steering linkage
Check the lateral play in the hinge. To do this, set the wheels in the position of driving the car in a straight line and shake the steering wheel in both directions
In this case, the assistant should put his hand on the ball joint, and if play is felt, it is necessary to check the condition of the hinge parts.
If there is no wear on the conical seat of the rod and the ball pin, it is enough to tighten the fastening nut with a torque of 40–50 Nm (4.0–5.0 kgf m).
If there is wear, replace defective parts.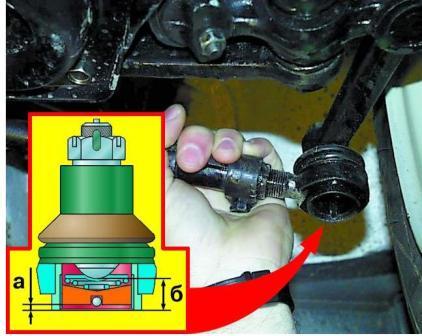 Check the end play in the hinge. To do this, vigorously shake the steering rod along the hinge axis.
If play is detected, remove the cotter pin, screw in the plug until it stops and measure the distance "a" from the plug to the end of the hinge body.
If the value "a" of the drowning of the plug is less than 5.5 mm, then the hinge can be adjusted, if more - unscrew the plug, remove the spring with the support heel and measure the distance "b" from the finger to the end of the hinge body.
If the size "b" is no more than 16 mm, it is necessary to wash all the parts of the hinge, assemble the hinge, put fresh grease in it and adjust it.
If the dimension "b" exceeds the specified value, replace the hinge.
Replacement
Press the ball joint pin out of the mating link or lever boss.
Remove the rubber joint seal.
Screw the fastening nut onto the pin flush with the end of the pin so as not to damage the thread of the pin when pressing out.
Press the pivot out of the link or arm boss.
Remove the rubber seal from the new ball joint. The required amount of lubricant is embedded in the hinge and seal.
When installing the hinge, make sure that dirt does not get into it and into the seal.
Press the hinge all the way into the boss of the link or lever.
Install the seal, while the outer edges of the seal of the ball joint of the steering rod are put on the collar of the boss of the steering rod.
Adjustment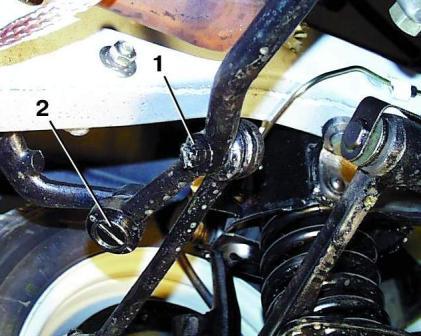 Remove cotter pin 1 and screw cap 2 in as far as it will go.
Loosen the plug one turn for the outer tie-rod joints or half a turn for the inner tie-rod joints, bipod and swing arm joints.
Then unscrew the plug until the first alignment of the slot of the plug with the hole in the housing for the cotter pin.
Install cotter pin.
Filling the steering joint with grease
Clean the ball joint from dirt.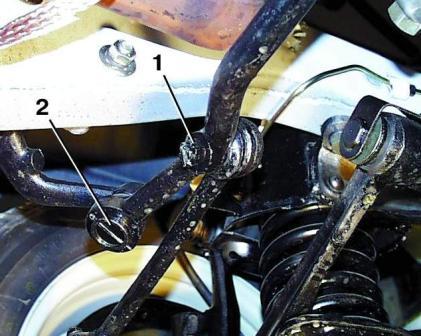 Remove cotter pin 1, unscrew cap 2, remove spring and heel.
Insert Litol-24 grease into the hinge and screw the plug all the way in, while pressing on the end of the rod so that the grease passes into the rubber seal into the gap formed between the pin and the bearing housing.
After that, unscrew the plug, assemble the hinge and adjust it