The head is cast from AK6M2 aluminum alloy.
There are additional racks for mounting the axis of the rocker arms
Fluoroelastomer sealing caps are installed on all valve sleeves.
Removing and installing the cylinder head
Draining the coolant
Remove the carburetor
Remove the intermediate lever with the carburetor control rods, disconnect the vacuum brake booster hose
Disconnect the exhaust pipe from the exhaust manifold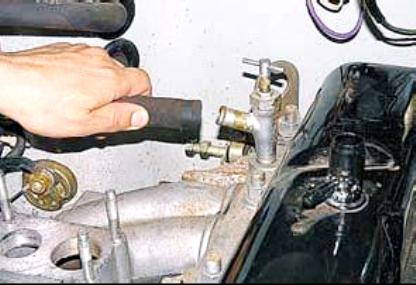 Disconnect the hose from the heater tap (Fig. 1).
Remove the tips of high-voltage wires from the spark plugs.
Remove the drive belt from the power steering pump pulley
Using the "13" wrench, unscrew the rear fastening nut of the power steering pump bracket and the "17" wrench two nuts of the front fastening.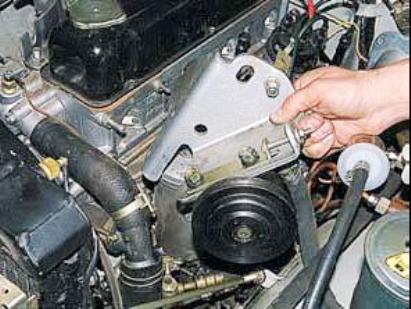 Remove the bracket together with the pump.
Disconnect the wire tip from the temperature gauge sensor
Remove the upper radiator hose (Fig. 4)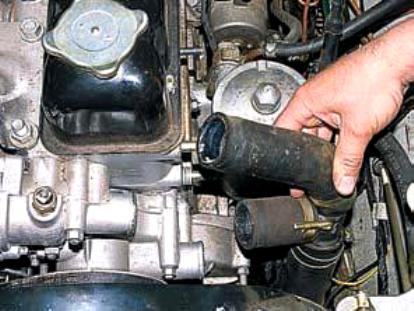 Disconnect the hoses from the thermostat housing.
Remove the axis of the rocker arms and take out the pusher rods.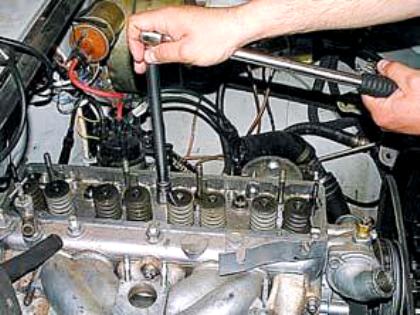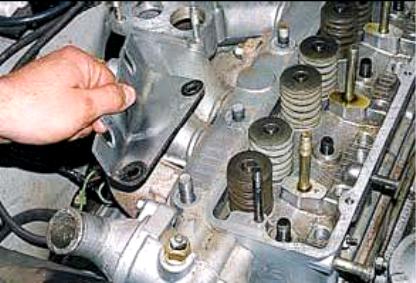 Using the "17" head, evenly, in the reverse tightening sequence (see below), unscrew the block head fastening nuts (Fig. 5).
Remove the air filter housing mounting bracket and the mounting lug from the studs.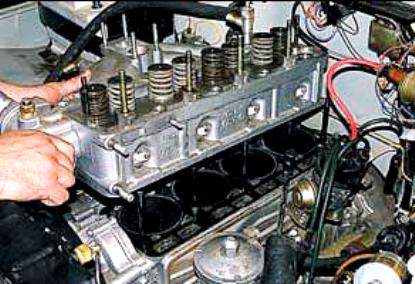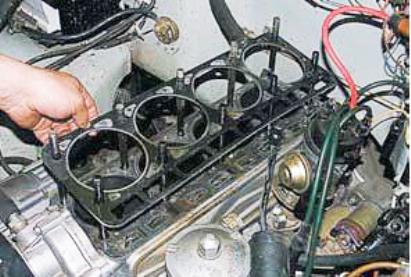 Remove the cylinder head.
Remove the head gasket.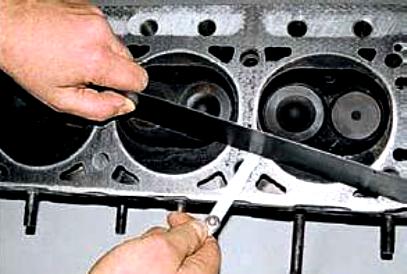 To check the flatness of the head of the block, we apply a metal ruler to the carefully cleaned plane of the head in two diagonal directions.
The gap when measuring with a probe should be no more than 0.1 mm.
Otherwise, the head must be ground or replaced.
When installing the head, be sure to put a new gasket, rubbing it on both sides with graphite powder (soft pencil).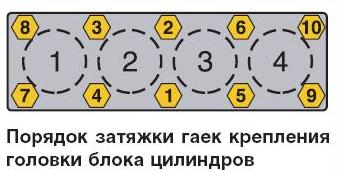 Lubricate the threads of the studs with graphite grease or SHRUS-4, after which we evenly tighten the ten nuts for fastening the head of the block with the "17" head in the order according to the figure.
To ensure a uniform and tight fit of the cylinder head to the block, tightening the fastening nuts should be done on a cold engine in a certain sequence in two stages:
- first - preliminary, with less effort;
- the second - finally, tightening the nuts evenly with a torque of 88.3-93.2 Nm (9-9.4 kg / cm.
After tightening the fastening nuts, the thermal gaps between the valves and the rocker arms must be checked.
Tightening must be done with a torque wrench