Mount the vehicle on a flyover or inspection ditch to access the gearbox and clutch from below
Remove the lower part of the clutch housing.
Remove the clutch release bearing yoke.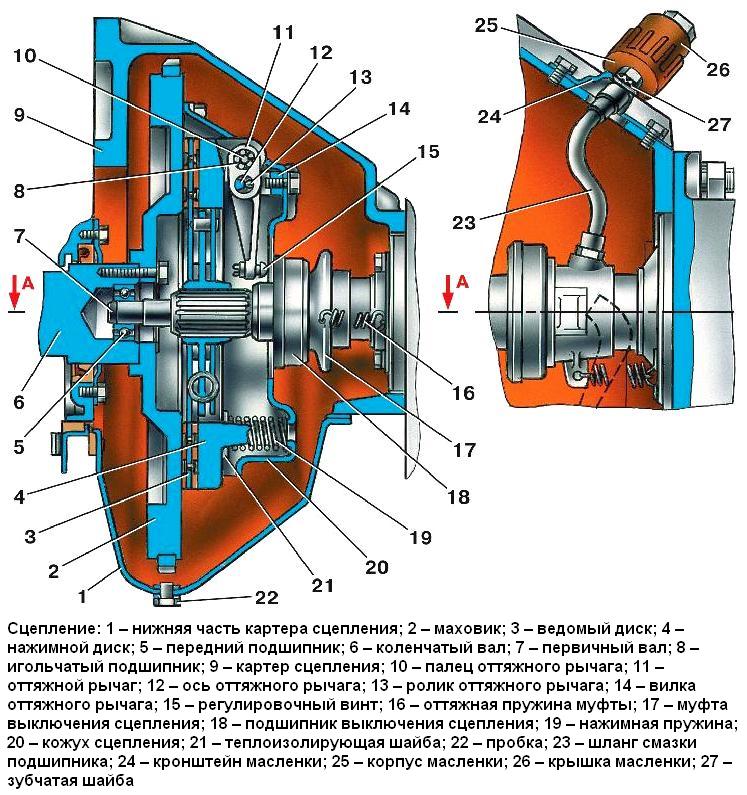 Remove the oil cap (on the right side of the clutch housing) and disconnect it from the rubber bearing lubrication hose.
Remove the gearbox from the vehicle (see "Removing the gearbox UAZ-3151) together with the clutch release bearing.
Remove the clutch with the clutch release bearing, remove the bearing from the clutch.
Before installing a new bearing, thoroughly flush the coupling and clean the lubrication channels.
Press the bearing with the marking towards the coupling. Remove old grease from the bearing lubrication hose and fill with new.
Rinse the neck of the bearing cap of the input shaft of the gearbox, on which the clutch is placed, and lubricate with a thin layer of fresh grease Litol-24.
Put the clutch onto the gearbox input shaft bearing cap, attach the return spring and install the gearbox on the vehicle.
Be careful not to damage the bearing lubrication hose when installing.
Do the rest of the assembly in the reverse order of disassembly.
After assembly, adjust the clearances between the clutch release bearing and the pressure plate levers.