Most electrical circuits are protected by fuses located in two blocks on the instrument panel
Fuse numbers are on the block cases
The fuse numbers, the devices of the circuits they protect, as well as the current strength are shown in the table.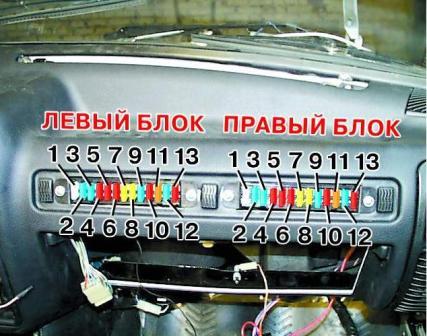 To access the fuses, slide the decorative trim with the inscription: "Volga" to the right, located on the cover of the blocks, finger into the hole and, pulling the cover of the fuse blocks towards you, remove it.
If the cover is tight, you can pry it off with a screwdriver.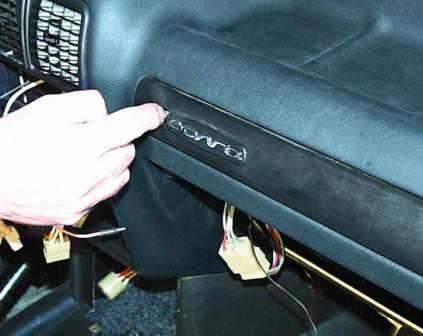 To remove the fuses from the box, it is recommended to use the tweezers that come with the spare fuse kit.
Plug blocks of fuse blocks, fuse cases are colored according to the current strength.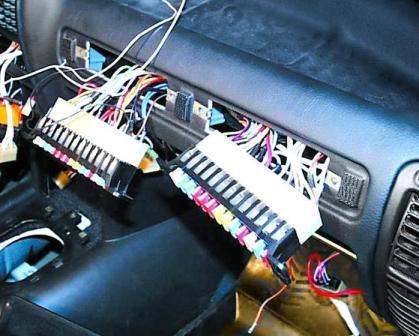 To remove the blocks, you must unscrew the two screws securing both blocks.
Pull the fuse boxes towards you from the panel so that they come out of the panel.
Mark the connectors, disconnect and push them back into the hole in the instrument panel.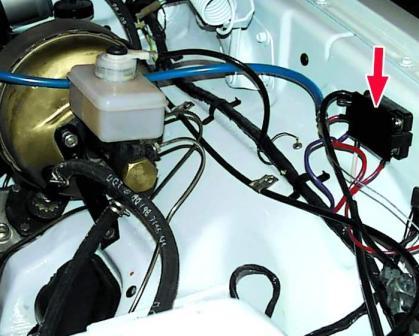 There is an additional block of two fuses on the left mudguard under the hood:
- 30 A fuse protects the engine cooling fan circuit;
- 60 A fuse protects all circuits except the starter circuit.
To replace the fuses, remove the cover of the block and, having unscrewed the two screws securing the fuse, replace it.
Before installing a new fuse to replace a blown one, find out and fix the cause of the blown.
Do not use oversized or self-made fuses - this can lead to burnout of the printed circuit board tracks, and possibly to a fire.
Fuse number - Protected circuit devices - Current strength, A
Left block
1 - Reserve - 25
2 - Right headlight (high beam) - 15
3 - Left Headlight (High Beam), High Beam Indicator Lamp - 15
4 - Right headlight (dipped beam), electric corrector - 10
5 - Left headlight (low beam) - 10
6 - Electric fan relay (ZMZ-4062 engine), seat heating relay, parking brake warning lamp relay, windshield washer jets - 10
7 - Reserve - 20
8 - Cigarette lighter, horns, horn relay - 20
9 - Rear fog lights - 15
10 - Radio - 10
11 - Engine control unit - 5
12 - Glove box lamp, interior dome light, engine compartment lamp - 15
13 - Wiper, headlight washer relay - 10
Right block
1 - Front fog lights, rear fog lights - 25
2 - Heater, heated rear window, heated rear window relay, auxiliary heater - 15
3 - Reversing lights, instruments, speedometer sensor - 15
4 - Stop lamp, portable lamp socket - 10
5 - Warning lamp - 10
6 - Left Headlight (Side Light), Fog Light Relay, Parking Light Warning Lamp - 10
7 - Heated rear window, lampshades, headlight - finder - 20
8 - Reserve - 20
9 - Electric fuel pump (Engine ZMZ-4062) - 15
10 - Engine control system unit (ZMZ-4062 engine) or EPHH block (ZMZ-402, ZMZ-4021 engines) - 10
11 - Direction indicators, side repeaters, interrupter, indicator lamp - 5
12 - Seat heating - 15
13 - Right headlight (parking light), headlamp cleaner relay, license plate lamp, instrument lamps, cigarette lighter lamp, medical sign lamp. - 10